Course Goals
The goal of the Yale Scientific Teaching Course is to improve undergraduate science education by training a new generation of scientific teachers to bring the spirit and rigor of research into the undergraduate classroom. Yale STEM (science, technology, engineering & math) graduate students, postdocs and associate research scientists are invited to apply. 
We will not be offering the Scientific Teaching course in 2022-23, but watch this space for the possibility of an offering in future years. 
Participants will:
Learn evidence-based teaching strategies, including engaging students through active learning, incorporating inclusive teaching practices, and developing effective assessments
Apply their knowledge of scientific teaching to develop instructional materials that address a teaching/learning challenge in an undergraduate STEM course
Learn skills that are valuable for TA positions, lab mentoring, and an academic career
Build a community of scientific teachers that is grounded in peer review and maintains high standards of pedagogy, scientific content, presentation, and creativity
Applicants must meet the following criteria:
Be a current Yale graduate student, postdoc or associate research scientist 
Major field of study is in STEM (or closely related) 
Deeply interested in teaching and in developing teaching skills
(Graduate students only) Completed at least 1 semester of required Yale teaching (N/A for postdocs)
Have approval from your faculty advisor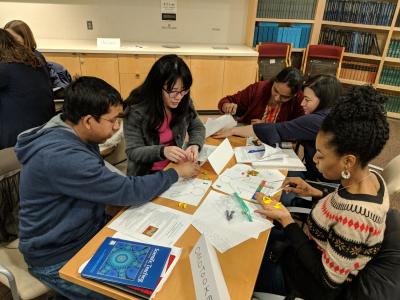 Attendance Expectations
Students are expected to attend all classes and commit to completing the program. Some out of class work is required (reading and brief assignments, plus development of teaching materials if not completed during designated class time). Missing more than 2 classes will require make-up work to complete the course. Classes do not meet during fall or spring breaks or other Yale holidays. 
Benefits to Participants
Training in evidence-based teaching strategies for STEM courses
Transcript notation (for graduate students) and C.V. language & certificate (for all who successfully complete the course)
Academic professional development (e.g. peer-reviewed teaching and diversity statements)
Recruitment to teach courses at Yale rooted in evidence-based pedagogy (e.g. BIOL 101-104 intro series)
Feedback from Scientific Teaching Course Alumni
"I thought I'm just going to a class about how to teach science, but turned out it was the other way around - how to "science" teaching!"
"This was one of the best experiences I had while at Yale."
How to Apply
Applications must include the following four items:
Contact information and advisor information (Faculty advisors must send an email of support.) 
Statement about your graduate/postdoctoral research (1000 characters/approx 100 words maximum): Include a BRIEF description of your research. This statement should be written for a lay person and should be understandable by first-year college students.
Teaching Statement (2 pages maximum): Write a statement about your teaching philosophy and/or experience. Include a closing statement addressing what you hope to gain from participating in this program.
Curriculum Vitae: Include research, teaching and mentoring experience.
Questions?
For information regarding future offerings of BBS 879/PHYS 530, please contact Elizabeth Luoma at elizabeth.luoma@yale.edu.
Alumni Materials
Are you an alum of our course? We cordially invite you to join our Scientific Teaching Course Alumni Group on LinkedIn! Our alumni community shares job postings, STEM education articles of interest and more. 
What have Scientific Teachng alumni created during the course? Explore the teaching materials developed by 2016 BBS 879 students.