Dr. Joanne Berger-Sweeney
Event Series
Audience
Faculty, Graduate & Professional Students, Postdoctoral Fellows
Event Time
Monday, November 6, 2017 -

2:30pm

to

3:30pm
Location Name and Address
Event Topic:
Diversity and Inclusion in Academia and the Public Good
Event Description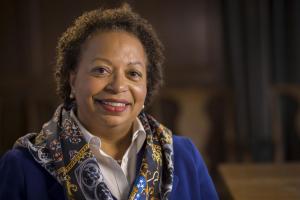 Dr. Joanne Berger-Sweeney, President of Trinity College, will host a series of workshops and seminars across campus, including a presentation at 2:30 p.m. in Hope 110, 315 Cedar St. (School of Medicine), described below.
Session Description: Maybe it is because I'm African American, maybe it is because I'm a woman, maybe it's because I'm a neuroscientist but as the President of Trinity College in Hartford, CT, people consistently ask me about my views on diversity and inclusion – diversity in higher education, diversity in STEM, diversity in America more generally.  At the heart of many of these questions is whether diversity and inclusion in academia are a moral imperative or a necessity for the future. 
My answer is both. Why? Because institutions of higher education are designed for the public good, an opportunity provided to individuals so that all of society can advance. What special responsibility do highly selective institutions like Trinity and Yale have in promoting diversity and inclusion to advance the public good?
Register for the November 6th, 2:30 pm Diversity and Education session.