How can you prepare for your session?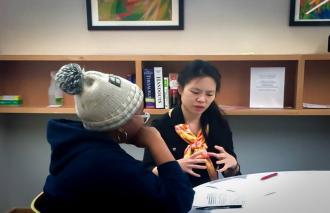 You can upload your document to your consultation at any time before the day of your appointment through the scheduler's upload function, or you may choose to email your document directly to the advisor with whom you are meeting.
If your document is 10 pages (2,500 words) double-spaced or less, please upload your document at least 24 hours in advance of your appointment. If your document is longer than 10 pages (2,500 words) double-spaced, please upload it at least 48 hours before your scheduled appointment and ensure that you have booked an hour-long appointment. In no way should your document exceed 20 double-spaced pages (5,000 words) per appointment. Additionally, if you want help on specific sections or aspects of your writing, please note this when you schedule your appointment.
Always bring a printed copy of your piece or your laptop with the document when you come to the consultation. The Graduate Writing Lab does not provide printing services.
Please complete an anonymous survey about your consultation after you receive an email inviting you to send us your feedback. We want you to have very positive experiences with your Graduate Writing Lab consultations!