Writing Full Day Retreats
Writing Retreats are normally offered during weekends early in the Fall and late January, and during selected weekdays in early May.
Each session starts with a nutritious breakfast followed by 6-7 hours of writing with a break for lunch, coffee, and physical warm-up exercises.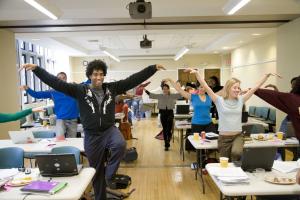 9:00 – 9:20 am – Sign in, set up, and breakfast
9:20 – 9:30 am – Setting up goals for the day
9:30 – 12:00 pm – Writing, writing, and writing
12:00 – 1:00 pm – Lunch
1:00 – 3:00 pm – More writing
3:00 – 3:15 pm – Break for coffee and snacks, stretching session
3:15 - 4:45 pm – Even more writing
4:45 – 5:00 pm – Accountability session
Students bring their laptops and get an entire day (or days!) of distraction-free writing time, with breakfast, lunch, snacks, and plenty of coffee provided. Writing Retreats have become a popular tradition in the Graduate School. Do not miss this amazing program!
Study Halls
Study Halls are abbreviated versions of Writing Retreats, with three hours of writing per session. They provide students with structured writing time, effective writing strategies, and space to work on their term papers, prospectuses, dissertation chapters, and articles for publication. Study Halls are scheduled throughout the academic year and alternate between morning and afternoon sessions. Below is an example schedule for the morning sessions: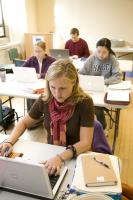 9:00 – 9:15 am – Setting up goals for the day
9:15 – 12:15 pm – Writing, writing, and writing
12:15– 12:30 pm – Accountability session
During these programs we provide drinks and snacks; morning and late afternoon sessions include breakfast and dinner, respectively.
A summer Study Hall series is also offered as the program "Get It Done in June," which consists of regular Study Halls for the entire month of June.