Writing Workshops, Seminars, and Panels
Throughout the academic year, the Graduate Writing Lab provides workshops, information sessions, and panels that can help you enhance your skills in a variety of areas. We return from break ready to offer you exciting Spring 2019 events!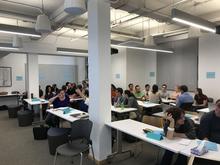 Our upcoming Series include the following:
From Paper to Science Publication Series
Dates Tuesdays, Jan 15, 22nd, 29th, Feb 5th, and 12th, 2019 Time 4:00-5:30 p.m. Location Kroon G01
Crafting a Great Introduction (Jan 15)
Writing up Methods & Results (Jan 22)
Creating a Discussion (Jan 29)
Titles, Abstracts, & Figure Legends (Feb 5)
Submitting & Responding to Editors (Feb 12)
Presenting Engagingly Series
For Humanities and Social Sciences:
Dates: Tuesdays 1/22, 1/29, Feb 2/12 Time: 4-5:30p.m. Location: Poorvu Center, Room 121 
Conferences from Abstract to Q&A (1/22)
Designing Effective Slides for Humanities and Social Science Presentations (1/29)
Public Speaking Clinic for Humanities and Social Sciences (2/12)
Presenting Engagingly Series
For Sciences:
Date: Thursdays, Feb 7, 14, 21, 28, & Mar 7 Time: 5:00-6:30p.m. Location: Hope 110, Medical Campus
Crafting the (Short) Story of Your Research (2/7)
How to Present Engagingly in the Sciences (2/14)
Poster Preparation & Template Development for STEM and Soc. Sciences (2/21)
Designing Effective Slides in Science Presentations (2/28)
How to Present Engagingly in the Sciences (WEST CAMPUS: Tues, Mar 5th; Room TBA)
Figure-Making in the Sciences (3/7)
Crafting Your Publishable Legal Article Series
Dates: Wednesdays from Jan. 23, 2019 to Feb. 27, 2019 Time: 4:30-6:00 p.m. Location: Poorvu Center, Room 121
Choosing the Paper and Publication (Jan 23)
Honing Your Argument for a New Audience (Jan 30)
Editing for Publication (Feb 13)
Submitting Your Paper and Abstract (Feb 27)
Also, check out a sampling of our upcoming individual workshops in the calendar below.
***
From Fall to Spring semesters, our programming covers various aspects of the following broad topics:
Developing Your Academic Style
Writing in Academic Genres
Advancing Your Research
Research Management Techniques
Building up Your Grant Writing Skills
Communicating for Academics and Broader Audiences
Career and Professional Development
Engage with our programming to hone your academic writing skills, improve your grant and fellowship writing techniques, bolster your confidence in preparing presentations, posters, and publications, and receive useful answers to many questions related to your academic experience at Yale. 

Eligibility
The Graduate Writing Lab programs are designed for graduate students and professional school students. However, we cordially invite Yale postdoctoral scholars, faculty, and staff to take advantage of these programs. All workshops are free and available to all who are interested within the Yale community.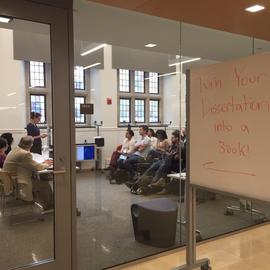 Past Events in this Series
Title
Event Topic
Time
From Dissertation to Book Panel Event with Top Editors from Humanities and Social Sciences
From Dissertation to Book Panel Event with Top Editors from Humanities and Social Sciences
Wednesday, April 24, 2019 -

3:00pm

to

6:30pm

Styling Your Academic Writing Series, Part 5: "Music, Personality, Voice"
Styling Your Academic Writing Series:Part 5: "Music, Personality, Voice"
Tuesday, April 23, 2019 -

4:00pm

to

5:30pm

Writing and Pitching Opinion Editorials
Writing and Pitching Opinion Editorials
Thursday, April 18, 2019 -

5:00pm

to

6:30pm

From Scope to Stance: Writing a Systematic Review in the Social Sciences
From Scope to Stance: Writing a Systematic Review in the Social Sciences
Wednesday, April 17, 2019 -

5:00pm

to

6:30pm

Styling Your Academic Writing Series, Part 4: "Use Good Words"
Styling Your Academic Writing Series:Part 4: "Use Good Words"
Tuesday, April 16, 2019 -

4:00pm

to

5:30pm

Designing Your LinkedIn Portfolio in the Social Sciences and Humanities Webinar
Designing Your LinkedIn Portfolio in the Social Sciences and Humanities Webinar
Thursday, April 11, 2019 -

4:00pm

to

5:00pm

Writing in the Legal World: Critical Skills for the Practitioner Part 3 Emails and Letters in Legal Practice
Writing in the Legal World: Critical Skills for the Practitioner Part 3 Emails and Letters in Legal Practice
Wednesday, April 10, 2019 -

12:00pm

to

1:30pm

Styling Your Academic Writing Series, Part 3: Help It Flow
Styling Your Academic Writing Series:Part 3: "Help It Flow
Tuesday, April 9, 2019 -

4:00pm

to

5:30pm

Writing Book Reviews in the Humanities
Writing Book Reviews in the Humanities
Thursday, April 4, 2019 -

4:00pm

to

5:30pm

GWL Workshop: Leveraging your Online Presence
GWL Workshop: Leveraging your Online Presence
Wednesday, April 3, 2019 -

4:30pm

to

6:00pm