Writing Workshops, Seminars, and Panels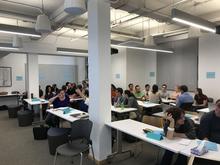 Throughout the academic year, the Graduate Writing Lab provides workshops, information sessions, and panels that can help you enhance your skills in a variety of areas. Stay tuned! We will offer you exciting Fall 2019 events!
Check out a sampling of our workshops:
Developing Your Academic Style
Writing in Academic Genres
Advancing Your Research
Research Management Techniques
Building up Your Grant Writing Skills
Writing for Publication
Communicating for Academics and Broader Audiences
Career and Professional Development

Eligibility
The Graduate Writing Lab programs are designed for graduate students and professional school students. However, we cordially invite Yale postdoctoral scholars, faculty, and staff to take advantage of these programs. All workshops are free and available to all who are interested within the Yale community.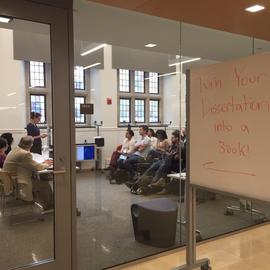 Past Events in this Series
Title
Event Topic
Time
From Dissertation to Book Panel Event with Top Editors from Humanities and Social Sciences
From Dissertation to Book Panel Event with Top Editors from Humanities and Social Sciences
Wednesday, April 24, 2019 -

3:00pm

to

6:30pm

Styling Your Academic Writing Series, Part 5: "Music, Personality, Voice"
Styling Your Academic Writing Series:Part 5: "Music, Personality, Voice"
Tuesday, April 23, 2019 -

4:00pm

to

5:30pm

Writing and Pitching Opinion Editorials
Writing and Pitching Opinion Editorials
Thursday, April 18, 2019 -

5:00pm

to

6:30pm

From Scope to Stance: Writing a Systematic Review in the Social Sciences
From Scope to Stance: Writing a Systematic Review in the Social Sciences
Wednesday, April 17, 2019 -

5:00pm

to

6:30pm

Styling Your Academic Writing Series, Part 4: "Use Good Words"
Styling Your Academic Writing Series:Part 4: "Use Good Words"
Tuesday, April 16, 2019 -

4:00pm

to

5:30pm

Designing Your LinkedIn Portfolio in the Social Sciences and Humanities Webinar
Designing Your LinkedIn Portfolio in the Social Sciences and Humanities Webinar
Thursday, April 11, 2019 -

4:00pm

to

5:00pm

Writing in the Legal World: Critical Skills for the Practitioner Part 3 Emails and Letters in Legal Practice
Writing in the Legal World: Critical Skills for the Practitioner Part 3 Emails and Letters in Legal Practice
Wednesday, April 10, 2019 -

12:00pm

to

1:30pm

Styling Your Academic Writing Series, Part 3: Help It Flow
Styling Your Academic Writing Series:Part 3: "Help It Flow
Tuesday, April 9, 2019 -

4:00pm

to

5:30pm

Writing Book Reviews in the Humanities
Writing Book Reviews in the Humanities
Thursday, April 4, 2019 -

4:00pm

to

5:30pm

GWL Workshop: Leveraging your Online Presence
GWL Workshop: Leveraging your Online Presence
Wednesday, April 3, 2019 -

4:30pm

to

6:00pm