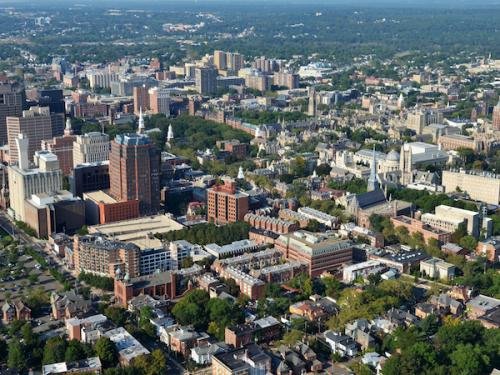 Yale's Center for Teaching and Learning (CTL) will host the 19th Annual Spring Teaching Forum on Monday, May 1 from 8:30 a.m. to 3 p.m. to spark a community-wide conversation about pedagogy and civic engagement. The forum, Civic Concern in Teaching and Learning: What is the public mission of a university education, will take place at the CTL in Sterling Memorial Library, 301 York St.
"As academics, we sometimes live in isolation from the world beyond our campus," said Jennifer Frederick, Executive Director of the Center for Teaching and Learning. "We have the opportunity to explore the impact that teaching and learning has in our broader community and how we can foster civic concern in our classrooms."
The Spring Teaching Forum is open to faculty, postdocs, graduate and professional school students, and undergraduates. It will include a panel discussion with moderator Claudia Merson – Director of Public School Partnerships in the Office of New Haven and State Affairs, a keynote address by Dr. Joe Bandy - Professor of Sociology and Assistant Director of Vanderbilt University's Center for Teaching, a community showcase and lunch, and breakout sessions.
Dr. Bandy has conducted research to "investigate the many ways that social movement organizations have responded to the economic changes associated with globalization, especially the efforts of U.S. and Mexican labor and environmental movements to forge coalitions in response to the social problems associated with export processing and free trade."
The goals of the forum are to describe the nature and purposes of civic pedagogy, share strategies to promote civic engagement in learning environments, and extend civic learning beyond the classroom.
"While the Spring Teaching Forum takes place each year as an opportunity to discuss a specific topic related to teaching and learning, we hope to choose a relevant topic based on discourse already taking place on campus," said Kaury Kucera, Associate Director of Graduate and Postdoctoral Teaching Development at the CTL. "The political climate of the country continues to dominate conversations and we want to add to that dialogue by asking faculty and students to examine their role in a democracy as educated citizens."
The forum is planned by a committee of McDougal Graduate Teaching Fellows and the Graduate and Postdoctoral Teaching Development staff at the CTL. Past topics include: Valuing Diversity in Teaching and Learning, the Impact of Technology, Let's Talk Lecture, and Engaging Complexity. Kucera worked with Stacey Lawrence, Eric Rosenberg, Emily Kress, Tomoaki Sasaki, and Elizabeth Krontiris on this year's forum.
Members of the Yale community may register to attend the forum by visiting the CTL's website: ctl.yale.edu/SpringTeachingForum