GWL Written and Oral Communication Workshops and Panels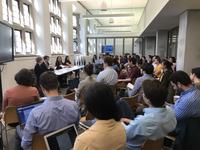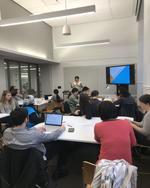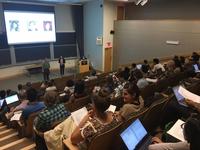 *Please note that all GWL workshops in September 2021 will be online, and we will reassess October programming as we monitor the health and safety situation.*
Throughout the academic year, The Graduate Writing Lab offers workshops, information sessions, and panel events that can help you enhance your skills in a variety of areas. The current lineup of workshops and events is available below, along with registration links. Keep an eye out in your inbox for announcements and upcoming events our weekly Newsletter!
Here is a sampling of our workshop series:
Developing Your Academic Style
Writing in Academic Genres
Advancing Your Research
Research Management Techniques
Building up Your Grant Writing Skills
Writing for Publication
Communicating for Academics and Broader Audiences
Career and Professional Development

Eligibility
The Graduate Writing Lab programs are designed for graduate students and professional school students. However, we cordially invite Yale postdoctoral scholars, faculty, and staff to take advantage of these programs. All workshops are free and available to all who are interested within the Yale community.    
Past Events in this Series
Title
Event Topic
Time
Info Session for Fulbright 2023-24 US Student Competition & Q&A with Associate Dean Robert Harper-Mangels
Online via Zoom
Monday, June 6, 2022 -

1:00pm

to

2:00pm

Tips, Tricks, & Tools for Summer Writing
Online via Zoom
Monday, May 9, 2022 -

12:00pm

to

1:30pm

Compiling a Constructive Peer-Review
Online via Zoom
Thursday, May 5, 2022 -

4:00pm

to

5:30pm

Publishing in the Biomedical Sciences: A Panel Discussion with Scientific Editors
Online via Zoom
Wednesday, May 4, 2022 -

12:00pm

to

1:30pm

Composing Effective Emails
Online via Zoom
Wednesday, April 27, 2022 -

4:00pm

to

5:30pm

Law School Series: Writing in Practice Part 3
Online via Zoom
Wednesday, April 27, 2022 -

12:15pm

to

1:30pm

From Paper to Publication in the Humanities and Social Sciences 5-Part Series Part 5
Online via Zoom
Wednesday, April 27, 2022 -

12:00pm

to

1:30pm

Writing a Review Article in the Sciences
Online via Zoom
Thursday, April 21, 2022 -

4:00pm

to

5:30pm

How to Turn your Dissertation into a Book: A Panel Discussion with University Press Editors
Online via Zoom
Thursday, April 21, 2022 -

3:00pm

to

4:30pm

Law School Series: Writing in Practice Part 2
Online via Zoom
Wednesday, April 20, 2022 -

12:15pm

to

1:30pm