GWL Written and Oral Communication Workshops and Panels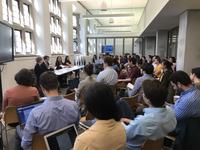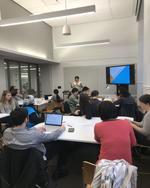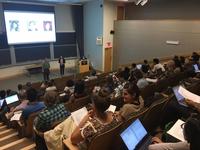 *Please note that all GWL workshops in March and April will be offered as webinars.*
Throughout the academic year, The Graduate Writing Lab offers workshops, information sessions, and panel events that can help you enhance your skills in a variety of areas. We look forward to bringing you a fantastic lineup of Spring 2020 events, starting with our Presenting Engagingly Series. Keep an eye out in your inbox for announcements and our weekly Newsletter in late August!
Here is a sampling of our workshop series:
Developing Your Academic Style
Writing in Academic Genres
Advancing Your Research
Research Management Techniques
Building up Your Grant Writing Skills
Writing for Publication
Communicating for Academics and Broader Audiences
Career and Professional Development

Eligibility
The Graduate Writing Lab programs are designed for graduate students and professional school students. However, we cordially invite Yale postdoctoral scholars, faculty, and staff to take advantage of these programs. All workshops are free and available to all who are interested within the Yale community.    
Past Events in this Series
Title
Event Topic
Time
Writing through Imposter Stress Workshop
Tuesday, July 14, 2020 -

11:00am

to

12:30pm

Get It Done in June Writing Together Program
Get It Done in June Writing Together Program
Friday, June 26, 2020 -

9:00am

to

12:00pm

Get It Done in June Writing Together Program
Get It Done in June Writing Together Program
Thursday, June 25, 2020 -

1:00pm

to

4:00pm

Get It Done in June Writing Together Program
Get It Done in June Writing Together Program
Wednesday, June 24, 2020 -

7:00pm

to

10:00pm

Get It Done in June Writing Together Program
Get It Done in June Writing Together Program
Wednesday, June 24, 2020 -

9:00am

to

12:00pm

Get It Done in June Writing Together Program
Get It Done in June Writing Together Program
Tuesday, June 23, 2020 -

1:00pm

to

4:00pm

Get It Done in June Writing Together Program
Get It Done in June Writing Together Program
Monday, June 22, 2020 -

9:00am

to

12:00pm

Get It Done in June Writing Together Program
Get It Done in June Writing Together Program
Friday, June 19, 2020 -

9:00am

to

12:00pm

Get It Done in June Writing Together Program
Get It Done in June Writing Together Program
Thursday, June 18, 2020 -

1:00pm

to

4:00pm

Get It Done in June Writing Together Program
Get It Done in June Writing Together Program
Wednesday, June 17, 2020 -

7:00pm

to

10:00pm