The introduction to the Poorvu Center's 2020-21 Annual Report is available below. We encourage you to download the full report in Microsoft Word or PDF format.
Poorvu Center for Teaching and Learning: Overview of the Year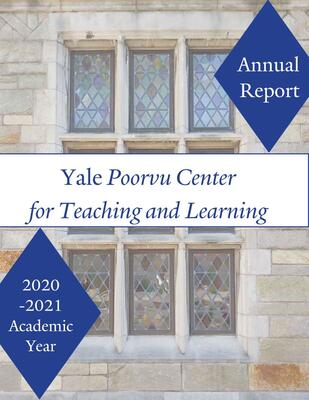 A global pandemic and ongoing uncertainty marked the 2020-2021 academic year, the seventh year of existence for the Poorvu Center for Teaching and Learning. Emergency remote learning began in March 2020, followed by intentionally designed remote courses for the fall and spring terms, although a limited number of classes and labs met in person. The campus community made significant adjustments as we weathered a most unusual year.
The Poorvu Center staff rose to the challenge during this crisis and became an even more indispensable resource, providing expertise and supporting Yale communities. We managed strong continuation of student learning and writing programs in virtual formats, improving access for some in ways we hope to sustain. We continued to consult with faculty about technical and pedagogical topics, meeting individually, in workshops, and in ongoing learning communities. We provided leadership for the campus through committee service and consultations with deans and other leaders. We advised on pedagogical questions such as academic integrity and remote proctoring. We contributed to campus-wide Diversity, Equity, Inclusion, and Belonging (DEIB) work by leading the Global Division's DEIB unit plan development. We disseminated best practices for remote teaching and learning, based on Yale faculty models and research-based methods. We partnered with other offices to design new programs, to respond to recommendations from students with disabilities, and to support the teaching and learning community. And finally, we connected to national and global networks to exchange ideas and address common challenges.
Through the hard work of our staff and many others across campus, the heart of a Yale education prevailed. Instructors and their students created communities through Zoom, extended care for one another's well-being, and adapted pedagogically in a host of creative ways. Faculty survey data from fall 2020 indicated that pedagogical priorities shifted as instructors got more comfortable with the technical elements of teaching online. 85% of instructors said their experience of remote instruction was "good" to "excellent" (52% said "very good" to "excellent"). Instructors revised their assessments to prioritize formative, incremental approaches. They experimented with lesson plans that intentionally designed asynchronous and synchronous learning activities. Zoom features such as breakout rooms, chat, and polling facilitated student engagement, while instructors relied more heavily on Canvas to organize course materials and support remote collaboration. Class discussions were frequently enriched by experts from around the world who could join virtual classrooms. Perhaps most importantly, instructors deepened their awareness of individual circumstances and found ways to express holistic care for student well-being.
In a typical year, the Poorvu Center is an active central campus hub. Open workspace areas are adjacent to community touchdown zones and flexible rooms for classes and workshops. We've always viewed our space as a physical representation of our philosophy, the pillars of which include flexibility, community, transparency, and incubation of new ideas. Serving campus with most of the staff at home put our collaborative organization to the test; we passed and very likely set a new bar for ourselves.
An ongoing Poorvu Center initiative strengthened our ability to work collaboratively and effectively in any format. Since 2019, we have committed to a mission shift where we more assertively recommend excellent pedagogical practices that promote long-term learning. We conceived the "Common Ground Initiative" as a cross-cutting intellectual collaboration, to identify four teaching principles that connect to the work of all Poorvu Center teams:
Learning Objectives: Describing the skills, knowledge, and abilities students will gain.
Assessments: Aligning to the objectives demonstrating what students have gained.
Reflection: Allowing instructors and students to deepen their learning and build on effective work.
Diversity, Equity, and Inclusion: Allowing all students to maximize their learning potential.
This work we did to understand and leverage expertise across the Poorvu Center teams provided a solid foundation for the all-hands collaboration required of us during the pandemic.
In addition to facing the challenges of supporting remote teaching and learning during the pandemic, the Poorvu Center engaged in calls for social and racial justice. Staff members exercised relevant disciplinary training, organized reading groups to educate ourselves, and participated in professional development on antiracist pedagogy. We developed new programs, often in partnership with faculty experts and campus partners, and integrated these topics into our training programs. Internally, we formed an Antiracism Taskforce. This group contributed to a climate survey for the staff and designed all-staff meetings to raise awareness of antiracism concerns and help build a shared vocabulary. The presence of the task force sent a signal that we are open to examining and improving our workplace culture.
What remote teaching practices proved effective, and should be sustained when we return to in-person classrooms? The Poorvu Center's support for approaches listed below pre-dates the pandemic, but each theme took on new significance in the context of a global pandemic and this country's reckoning with structural racism and identity-based violence.
Emphasis on well-being: Recognizing the importance of checking in with students, allowing for breaks, and integrating informal conversations.
Small groups: Designing group activities to enhance discussion and student-to-student interactions, and equalize opportunities for participation.
Asynchronous approaches: Providing elements of course content asynchronously, which increases discussion time in class and allows students to review at their own pace.
Modified assessments: Using formative and incremental assessment rather than higher-stake timed exams; using intermittent polling; using Canvas Quizzes and Gradescope tools for efficient grading.
Accessible course materials: Anticipating and addressing accessibility challenges during the course design process; building flexibility into courses as a way to embrace student diversity without altering learning objectives or class rigor; using technological tools (such as ALLY) that can alert instructors to accessibility obstacles and facilitate improvements to their course materials.
Virtual office hours: Providing opportunities for students to connect with instructors through office hours held on Zoom as well as in person.
Lecture recordings for review: Recording lectures can be a valuable review tool for students, as well as a way to increase accessibility of course content. The Poorvu Center can work with instructors to implement tactics to help ensure in-person attendance provides additional benefit over lecture recordings.
Recognition for the Poorvu Center's efforts came in many forms. We received many positive comments from instructors who relied on our help to realize their teaching goals in a new format. Comments in the faculty survey praised the Poorvu Center for our central role in academic continuity. A few examples:
"The staff in the Poorvu Center is doing an amazing job, and I'm grateful for the ways that they have worked around the clock to be supportive of all of us teachers."
"Support from CTL has been outstanding. Any issues have been addressed by them promptly and  professionally."
Members of our Broadcast Studio team received the Linda Lorimer Award for Distinguished Service for producing accessible, virtual ceremonies for both Commencement and Opening Assembly, ensuring the continuity of hundreds of years of Yale tradition, despite the challenges presented by the pandemic. In addition, Pilar Abuin, Director of the Educational Technology team, won the Yale Working Women's Network Visionary Award. Beyond these examples of public recognition, the Poorvu Center staff supported one another collaboratively with grace and gratitude. Internally, we developed a mechanism to recognize essential efforts of those whose work was less visible.
In fall 2021, we returned to campus recharged and ready to consider teaching and learning in fresh ways. We are also better able to address the ongoing need for flexibility and patience as COVID-related challenges continue. Informed by the many lessons from the pandemic, we will support Yale as we return to new forms of residential education.