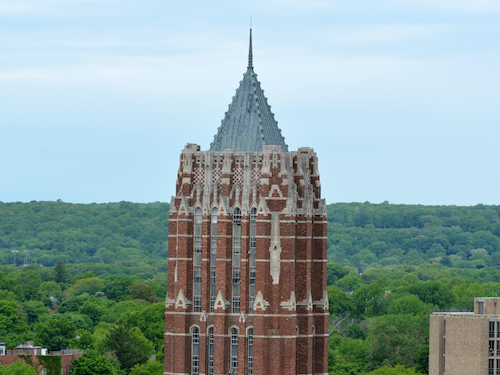 The Poorvu Center for Teaching and Learning is pleased to announce the 2018-2019 recipients of the Associates in Teaching award.
The AT program supports GSAS doctoral students as they team-teach Yale College courses with faculty members. Initiated in 2009, this program allows students to conceptualize or redesign, plan, and deliver an undergraduate course in partnership with a Yale faculty member. Evidence from previous years indicates that the program provides expanded teaching opportunities for graduate students, facilitates team teaching between disciplines, and creates pedagogically exciting opportunities for undergraduate student learning and development of new curriculum.
The Selection Committee was comprised of three faculty members who have previously taught AT courses and who represent the Humanities, Social Sciences, and Natural Sciences Divisions, as well as Graduate School and Poorvu Center representatives.
| Instructors | Department(s) | Course Title |
| --- | --- | --- |
| Roger Baumann and Professor Jonathan Wyrtzen | Sociology | Religion and Nationalism in America |
| Marco Ladd and Professor Gundula Kreuzer | Music | Listening to the Screen: Introduction to Film Music |
| Keri Lambert and Professor Robert Harms | History / African-American Studies | Commodities of Colonialism in Africa |
| Myles Lennon and Professor Professor Douglas Rogers | Forestry and Environmental Sciences / Anthropology | Energy and Power |
| Andrew Muehleisen and Professor Liza Comita | Forestry and Environmental Sciences | Pests, Parasites, and Pathogens: An Ecological Perspective |
| Juan Piñeros and Professor David Charles | Philosophy | Philosophy and Psychology of Emotions |
| Professor Michael Veal and John Klaess | Music | Hip-Hop and Dub: Musical Technologies of the Black Atlantic |
| Alexandra Reider and Professor Emily Thornbury | English | The Earliest English Literature |
| Nicholas Robbins and Professor Martina Droth | History of Art | Sculpture, Photography, and Modernism |
| Yasmmyn Salinas and Professor Andrew DeWan | Public Health | Genetic Concepts in Public Health |
| Wiliam Watson and Professor Anna Zayaruznaya | Music | From Concept to Concert: Sources, Editions, and the Performance of Music |
| Chris Hebdon and Professor Paul Kockelman | Anthropology | Thermodynamic Anthropology |