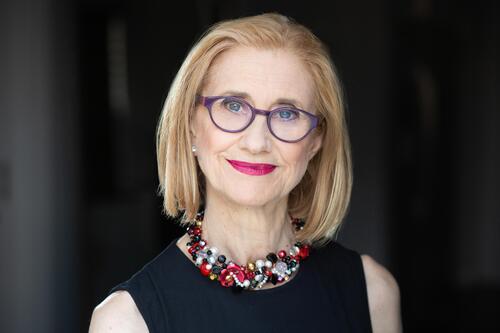 Strategies and stories from Yale faculty.
The words host, mute, and chat will forever have a permanent home in our memory beyond COVID-19. In the last year, Yale community members have hosted more than 1.2 million Zoom meetings. These sessions have included everything from live courses and office hours to one-on-one consultations and routine department meetings. We've learned that it takes immense energy, effort, and preparation to host online courses during this time.
On Thursday, February 11, the Poorvu Center gathered faculty to discuss how they have built online classroom communities during the last three semesters. Led by Lecturer of Career Strategies at the Yale School of Music Astrid Baumgardner, the one-hour Teaching and Learning Discussion allowed faculty to share strategies, stories, and suggestions.
"I created a personal relationship with each student. I demonstrated vulnerability and brought my authentic self to each class session," said Baumgardner, who also serves as head of the Yale School of Music's Office of Career Strategies. "I validated the challenges my students faced throughout the semester. I built-in variety and interaction into my course and I modeled positivity. I relied on frequent communication to stay connected."
Baumgardner prepared a welcome video and posted it to her course site in Canvas. The video outlined her background, teaching philosophy, course expectations, and devotion to the subject: "Careers in Music: Fostering Collaborative Creativity and Innovation in the Post-COVID World." Each student in Baumgardner's class met one-on-one with her for 30 minutes to share information about their training, background, and course goals.
"I wanted to hear from the students about what they had done in the summer and how they were managing with COVID-19 and what they were looking forward to in my class," said Baumgardner, who decided to host an online social hour before diving into her course last semester. "It was a chance for the students to learn more about me and for me to learn more about them."
The Teaching and Learning Discussion attracted more than 30 faculty members from multiple departments. Two experts from the Poorvu Center joined the group to discuss the topic.
"I'm impressed by our creative and resourceful faculty members," said Director of Faculty Teaching Initiatives Julie McGurk. "Astrid shared her amazing experience and many resources. The discussion inspired others to share how they got to know students and built a community of learners in the online classroom."
"Instructors offered ideas about goal-oriented Zoom breakout rooms, effective use of the Zoom chat, leveraging Canvas discussion boards, promoting reflection with weekly journals, creating space for students to interact informally, meeting one-on-one with students, and so much more," said McGurk.
The Faculty Teaching Initiatives team at the Poorvu Center works closely with educational technology experts and faculty to help solve pedagogical challenges. They offer consultations and observations to all Yale instructors.
"We love having the opportunity to help faculty experience the satisfaction that results from teaching well," said Associate Director of Faculty Teaching Initiatives Melissa Scheve, who coordinated the Teaching and Learning Discussion. "Instructors have expressed a desire to learn more about teaching online so they can deliver better classroom experiences for our students."
To summarize several strategies shared during Thursday's discussion, please see the following Top 10 Strategies for Building an Online Community below:
Develop and foster personal connections: With small classes, consider meeting one-on-one with each student to learn more about them. With large classes, consider building a social activity or assignment into the course so students can learn more about each other.
Validate challenges: The last year has presented loads of challenges for students and faculty. Validating the circumstances and world at large will help build trust.
Demonstrate vulnerability: Share personal experiences to help create a connection with students.
Set goals for breakout rooms: Sending students into breakout rooms without an explicit activity or goals will not result in a rewarding learning experience. Prepare them to work together and discuss the learning objectives of the course.
Create opportunities to ask for help: Establishing online office hours and actively inviting students to attend will ensure that students feel comfortable asking for help.
Facilitate discussion: Using Ed Discussion on Canvas or creating digital note boards allows students to interact with each other outside of regular class hours.
Leverage the Chat: Faculty at Yale suggested the Zoom chat as a valuable resource to encourage participation from students who don't feel comfortable verbally participating in a discussion. Astrid Baumgardner saves the chat from each class session and posts it to Canvas so students can use it as a reference.
Implement reflections: Instructors can use weekly journals, or keep-quit-start prompts to ask students to reflect on their learning and provide valuable feedback.
Experiment with creative assignments: One faculty member at Yale shared that she asks each student in her class to prepare a group activity. The activity requires students to participate and engage with others during a peer-led portion of the course and counts toward the students' grades.
Communicate often: Addressing concerns, answering questions, and providing additional resources will result in a rewarding and more equitable experience for all community members.