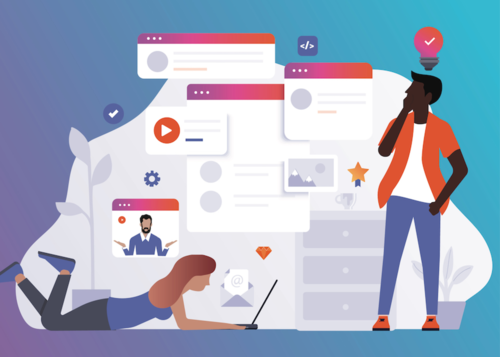 The following message was sent to most faculty and graduate student teaching fellows on Monday, March 9 at 12 p.m. Subsequently, President Peter Salovey announced on Tuesday, March 10 at 7:50 p.m. that Yale University classes will be held using Zoom, Canvas, or other online tools through April 5 at the earliest. You can read a copy of President Salovey's guidelines online.
---
While the University closely monitors the spread of COVID-19 around the world, the Poorvu Center for Teaching and Learning is taking steps to help instructors continue teaching in the event that restrictions on in-person classes become prudent.
Instructors should prepare to conduct their classes using technology in case some students or instructors are unable to attend in person. Canvas and Zoom are Yale-supported tools that allow you to conduct class virtually. Below we list four ways to get help learning how to use these tools:
We recognize that different courses across the University provide unique learning experiences that will not readily translate online. The Poorvu Center website includes considerations for effectively adapting classroom teaching to online platforms as well as suggestions for alternative approaches to continue teaching students without using digital tools.
Canvas is Yale's learning management system (LMS). This platform allows instructors to organize a course online. Canvas includes several features to facilitate online communication between instructors and students.
Zoom allows you to set up a virtual classroom where you and your students can see and speak with each other in real time. Zoom has additional collaboration tools, including video breakout rooms, screen-sharing, polling, and group chats, to facilitate a dynamic online learning environment.
We recommend that instructors think about a contingency plan for their course. For example, make sure you can log into Canvas and Zoom if you would use those tools to continue instruction. You may need to download the Zoom software if you have never used the tool.
The Poorvu Center aims to help instructors consider how to adapt course assessments, along with potential alternatives to standard in-class assessments.
For instructors considering online versions of seminars or other discussion-based courses, we offer a variety of ways to reproduce the back-and-forth of an in-class discussion.
For hands-on learning experiences such as laboratory and studio courses, instructors may need to consider alternatives, perhaps drawing on experience accommodating students who missed class due to illness or other major conflicts. We offer suggestions for you to consider in place of an in-person laboratory or other experiential forms of instruction.
Most importantly, the Poorvu Center staff welcome your questions and are available to meet to discuss Canvas, Zoom, and other pedagogical strategies related to distance teaching and learning. Please contact us at AskPoorvuCenter@yale.edu. We will be fully staffed during spring break, and ready to help faculty in person or remotely.