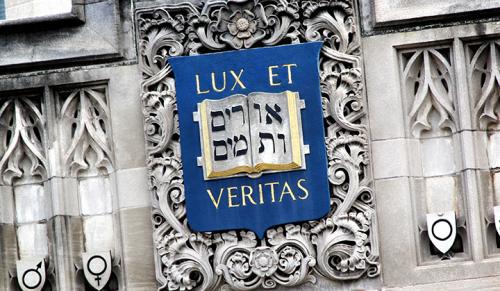 Now there will be Bulldog Days for the folks on the other side of the podium.
Faculty Bulldog Days, set to roll out April 6-10, will give professors a chance to see how their colleagues approach teaching in the age of Instagram and hackathons.
More than 100 faculty members are making their classes available for teaching colleagues around the university to attend. The subject matter will reach across all academic disciplines — everything from exoplanets and elementary Czech to cell biology and British cinema — with the purpose of showcasing great teaching.
"We want to make teaching at Yale more of a public practice," said Scott Strobel, deputy provost for teaching and learning, and one of the guiding forces behind Faculty Bulldog Days. "The idea is for the faculty to see what others are doing, see what works, and have conversations about it."
The whole shebang is a variation on Yale's traditional Bulldog Days, which offer admitted students the chance to sample classes before officially joining Yale. More than 1,000 admitted students are expected to participate this year
At Faculty Bulldog Days, the emphasis will be on sparking a cross-pollination of teaching excellence. Rather than being focused solely on their own classroom mechanics, professors will observe other teaching styles and formats.
Besides, notes Strobel, what great teacher doesn't want to be a student again, if only for a few hours?
"I think it's great for faculty to get a chance to see their colleagues teach," said Laurie Santos, associate professor of psychology, who will open up her class on "Sex, Evolution, & Human Nature" for the event. "It's great to see others' techniques, and also to see the diversity of great lecturers we have on campus. And yes, I do plan to attend other classes — but I'm not sure which ones yet. I guess I need to 'bluebook' a bit, first."
Douglas McKee, associate chair and senior lecturer in economics, and lecturer at Yale School of Medicine, plans to "exercise my softer side" and attend a Shakespeare class taught by Catherine Nicholson, an assistant professor of English.
"I'll be learning how Cathy teaches a completely different kind of material than I'm used to," McKee noted in his blog, Teach Better. "A lot of folks are going to learn a lot of cool things during Faculty Bulldog Days, but perhaps the most important contribution of the event is that it will start (or restart) dialogues about teaching between faculty across and within disciplines. Faculty talk all the time about their research or current events, but I think we'll all benefit from talking a bit more about what we do in the classroom."
Also scheduled to make the rounds for Faculty Bulldog Days are Provost Benjamin Polak, Yale College Dean Jonathan Holloway, Dean of the Faculty of Arts and Sciences Tamar Gendler, Graduate School of Arts and Sciences Dean Lynn Cooley, and Deputy Provost for Science & Technology Steven Girvin.
Strobel said instructors will know which colleagues have signed up for their class in advance. At a later date, faculty who attended the same class will be invited to meet informally and discuss the experience.
Strobel is likely to have a few of those informal meetings himself. "I'm going to a whole bunch of courses," he said, including Ned Cooke's "Decorative Arts in a Global Context" class. "I'm using this as my shopping period."
See the original YaleNews article by Jim Shelton at http://news.yale.edu/2015/03/23/faculty-bulldog-days-debut-april.