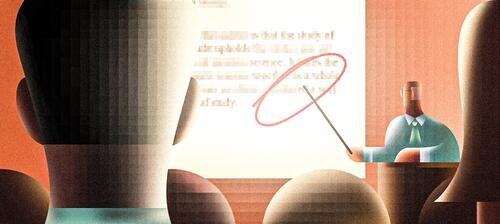 "We need to be graduating students who are adequately prepared."
How educators are learning to use AI in the college classroom
The following is an excerpt of a story featuring Jenny Frederick, published in The Garage by HP, a publication of editorial stories about innovation.
Generative AI "isn't going back in the box," says Jennifer Frederick, Executive Director of the Yale Poorvu Center for Teaching and Learning and Yale's Associate Provost for Academic Initiatives. "We need to be graduating students who are adequately prepared."
Among educators, generative AI is evoking a mix of enthusiasm and trepidation. "A lot of the early headlines about AI in education were very alarmist: 'The essay is dead, and students will never write anything again,'" says Frederick. "But we need a more holistic approach to thinking about AI than just through the lens of plagiarism."
Many universities are developing their own content to help faculty navigate these murky waters. Yale's Poorvu Center for Teaching and Learning, for example, leads workshops, faculty orientation discussions, panels and forums, and one-on-one consultations with instructors interested in dabbling in the technology for their courses and also for internal research and operations.
That said, there are still many areas of the technology that deserve a healthy dose of skepticism. One specific issue with AI is that it's only as good as the data it's trained on — and a lot of training data is biased, inaccurate, or fails to adequately take into account different cultural or linguistic intricacies. Because of this, Yale's Frederick cautions against ascribing too much authority to AI outputs without independent verification. "They can be a good starting point for conversations about things like bias and representation and what's missing and how to make that better," she says.
Read the full story: How educators are learning to use AI in the college classroom by Stephanie Walden