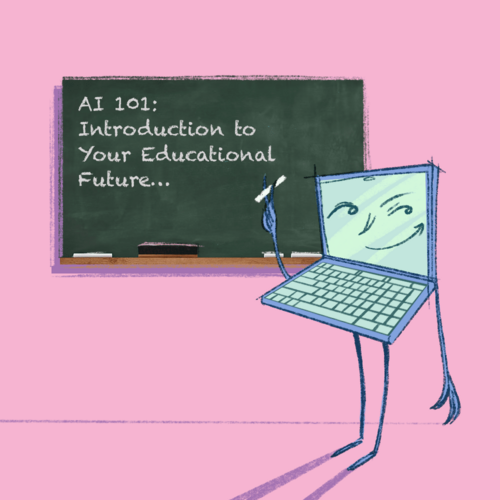 The Poorvu Center's AI guidance for faculty continues to evolve along with this new technology. This article, published by the Yale Daily News, includes guidance, workshops, and panel discussions offered by the Poorvu Center since January 2023.
Administration, faculty consider AI use in the classroom
Professors discuss with the News their views on how to handle AI use.
By Been Raab
September 12, 2023
As artificial intelligence platforms like ChatGPT continue to grow in power and accessibility, so does the fear that student work will be indistinguishable from that of AI.
With no sweeping policies issued by the University regulating the use of AI in classrooms, professors have begun to discuss their plans in department meetings and discussions with Yale's Poorvu Center for Teaching and Learning. In conversations with the News, several professors said they are not concerned about regulating AI use, while others see the issue as a more serious threat to classroom dynamics.
"The hindrance [to learning] is short term — not doing the reading or thinking deeply about the paper topic; and long term: deskilling, atrophy of the intellect," history professor Paul Freedman wrote in an email to the News.
University Provost Scott Strobel and Associate Provost for Academic Initiatives Jennifer Frederick sent an email to faculty on Jan. 24 addressing the rise of AI and its implications for teaching and research at Yale.
In their email, Frederick and Strobel wrote that they "strongly encourage faculty to understand the implications of this emergent technology, including the opportunities and challenges it poses for teaching and learning in our community."
No changes related to AI policy were made to the Yale College Undergraduate Regulations in the previous academic year. However, the current regulations now include "a note on artificial intelligence."
The note explains that adding AI-generated text into an assignment without citation is considered a violation of academic integrity. However, it also states that permission to use AI writing tools in class will be subject to the policy of the instructor and that these guidelines could change over time.
"There is a strong sense among the [Political Science] faculty that this is not something for which there is a clear yes/no answer," Gregory Huber, chair of the political science department, wrote to the News. "Access to ChatGPT/AI will assist in numerous tasks, but inappropriate use would be undesirable. It is just evolving so rapidly that we need to learn more before making any blanket policy."
Last Thursday, Huber added, the political science department held a faculty meeting to discuss the topic of AI in the classroom.
Huber noted that faculty in the meeting spoke about how AI is an evolving technology to which they need to adapt. He also wrote that faculty were looking to learn more about how AI is being used by students.
"The guidance from the Poorvu Center has been very useful in this regard, and we agreed as a department to share feedback with one another and the [directors of graduate and undergraduate studies] about our experiences with students using it," he wrote.
The Poorvu Center offers guidance on how instructors can adapt their teaching to ongoing developments in AI. Twice in May and once in August this year, the center held workshops for instructors to attend.
The Poorvu Center also regularly fields AI-related teaching questions from faculty, according to Alfred Guy Jr., assistant dean of academic affairs and director of writing and tutoring at the Poorvu Center.
Guy said that revising the guidance will be a continuous process, and that their recommendations have changed "at least" three times already. Otherwise, Guy said that the Center does not intend to tell faculty how exactly to handle AI use in their classes.
"We won't really be monitoring — we don't see ourselves in a supervisory relationship to faculty or the curriculum at Yale," he said.
Guy also added that he is excited about some aspects of AI use. He said that collaborations with AI could help his students create and learn differently.
Ahead of the fall 2023 semester, CS50, an introductory computer science class at both Yale and Harvard, unveiled a new AI teaching assistant —  a chatbot that can take student questions and offer hints to guide them towards an answer.
David Malan, the professor teaching CS50, spoke optimistically about the possibility of academic departments outside computer science.
"I wouldn't think of it as having to find a way to work with it but, rather, as inevitably having all the more ways available to leverage it," Malan said. "CS courses are perhaps advantageously positioned to be early adopters of AI, but there will soon be all the more apps, all the more APIs, via which academia more generally will be able to leverage AI, either with less code or even no code."
In February, Poorvu hosted a panel discussion titled: "Artificial Intelligence and Teaching: A Community Conversation."
However, a panel discussion on AI hosted by the Poorvu Center in February, described AI technology as just the latest in a string of past innovations that have changed teaching.
"It does seem to me also that we've been here before: cell phones and computers, Wikipedia, Google Search, spell check," Laura Wexler professor of women, gender and sexuality studies. "There have been a lot of changes that have been said to herald the end of things as we know them, and that we had to put up defensive barriers in our classrooms against them."
Professor of Computer Science Brian Scassellati told the News that professors should not panic. He said, echoing the Poorvu Center's messaging, professors have had to deal with technological innovations before.
But Freedman, in an email to the News, took a harder line.
"Without succumbing to the 'this is different' tendency, I do believe this is more than a tool on the order of the calculator," he said. "That it will change course assignments but also is likely to make research more powerful and the researcher more ignorant."
The Yale Computer Science department is located at 51 Prospect St.