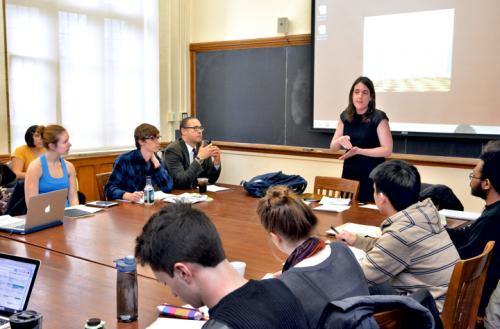 Striding confidently along College Street on a spring afternoon, Yale College Dean Jonathan Holloway was nearly at the steps of Harkness Hall when he realized he'd forgotten his laptop.
The computer was back at his office, a block down the street. For a moment he considered going to retrieve it, then decided to keep moving forward. He smiled as he opened the heavy door.
"I don't want to be late for class," Holloway said.
Indeed not. Across the university last week, faculty and administrators found themselves entering different doorways and navigating new classrooms — all in the interests of academic exploration. Like Holloway, they were taking part in Yale's first Faculty Bulldog Days, which invited professors to sit in on colleagues' classes and experience different ways of teaching.
There were economists taking Shakespeare, French professors learning engineering, and chemists studying decorative arts.
Graduate School of Arts and Sciences Dean Lynn Cooley attended Paola Bertucci's class on "The Scientific Revolution," which focused on early microscopes. "It was fascinating to hear about reactions to the first images produced of microscopic organisms," Cooley said. "Paola's lecture tied together cultural and scientific threads in an interesting way. Today's scientists struggle with how to engage non-scientists in their work, and Paola's lecture showed how it can be done."
Read the full article by Jim Shelton in the April 14, 205 issue of YaleNews at http://news.yale.edu/2015/04/14/teaching-takes-spotlight-during-faculty-….