GWL Writing Retreats and All Writes
The GWL's writing retreats and all writes offer you a productive, goal-oriented, and community-based writing environment. Counteract the isolation of a long writing project by writing in the company of others. We provide a distraction-free space as well as snacks and meals so you can direct all of your focus toward producing your best work. Structured goal-setting, breaks, and accountability check-ins keep your energy high and help you meet your goals.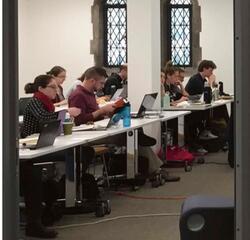 What to Expect
Leave the grading, social media, electricians, and grocery lists at home - bring your writing materials, writing supplies, and your focus to our structured group writing sessions! All events begin with group goal-setting, facilitated by a GWL fellow, to help you create realistic time and task-based writing goals for the session. After writing down your goals, you'll take a few minutes with 1–2 other participants to calibrate your goals before setting off to write. Structured breaks and meals help reenergize you for the next writing session and provide some needed balance. At the end of the event, you'll revisit your goals, noting which tasks you completed and reflecting on what helped you be productive.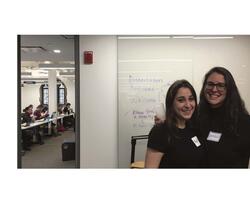 Daylong events called "Writing Retreats" begin with breakfast and break for lunch midway through the day. Half-day events called "All Writes" typically begin with 1.5 hours of writing, followed by a meal, followed by 1.5 hours of writing. Snacks, coffee, tea, and drinks are available throughout all events. Within long stretches of writing, short activity breaks boost your energy and freshen your focus.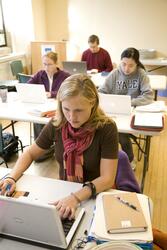 Lateness and No-Show Policy
Please plan to arrive five minutes early to claim a writing space and begin setting up. Because we promise a distraction-free space, arrivals more than ten minutes late will not be permitted. A $25 fee will be charged to no-shows to cover food purchased for each participant. If your plans change and you cannot make session for which you have registered, please cancel your registration in YaleConnect at least 24 hours prior to the start of the event.
Yearly Schedule
Writing retreats are all-day writing sessions, with a special weekend retreat at the beginning of each term and a weeklong "Write into Summer" event each May. All writes are half-day events typically offered in a sequence of 3 sessions per cycle during the fall and spring terms.
Upcoming sessions are announced in our weekly newsletter, our Yale Connect site, and on the calendar below.
Past Events in this Series
Title
Event Topic
Time
Write into Summer! Thursday, May 11th 9am-5pm
Poorvu Center, 301 York Street, Rooms 120A & 121
Thursday, May 11, 2023 -

9:00am

to

5:00pm

Write into Summer! Wednesday, May 10th 9am-5pm
Poorvu Center, 301 York Street, Rooms 120A & 121
Wednesday, May 10, 2023 -

9:00am

to

5:00pm

Write into Summer! Tuesday, May 9th 9am-5pm
Poorvu Center, 301 York Street, Rooms 120C & 121
Tuesday, May 9, 2023 -

9:00am

to

5:00pm

Spring "All Write" Writing Retreat: Tuesday, April 18th from 5-8:30pm
Poorvu Center, 301 York street, rooms 121 & 120C
Tuesday, April 18, 2023 -

5:00pm

to

8:30pm

Spring "All Write" Writing Retreat: Wednesday, April 12th from 5-8:30pm
Poorvu Center, 301 York street, rooms 121 & 120C
Wednesday, April 12, 2023 -

5:00pm

to

8:30pm

Spring "All Write" Writing Retreat: Thursday, April 6th from 5-8:30pm
Poorvu Center, 301 York street, room 121 & 120C
Thursday, April 6, 2023 -

5:00pm

to

8:30pm

Spring "All Write" Writing Retreat: Wednesday, March 8th from 5-8:30pm
Poorvu Center, 301 York Street, Rooms 120C & 121
Wednesday, March 8, 2023 -

5:00pm

to

8:30pm

Spring "All Write" Writing Retreat: Thursday, March 2nd from 5-8:30pm
Poorvu Center, 301 York Street, Rooms 121 & 120C
Thursday, March 2, 2023 -

5:00pm

to

8:30pm

Spring "All Write" Writing Retreat: Tuesday, February 21st from 5-8:30pm
301 York Street, Rooms 121 and 120C
Tuesday, February 21, 2023 -

5:00pm

to

8:30pm

Spring "All Write" Writing Retreat: Wednesday, February 15 from 5-8:30pm
Poorvu Center, 301 York Street Rooms 121 nd 120C
Wednesday, February 15, 2023 -

5:00pm

to

8:30pm