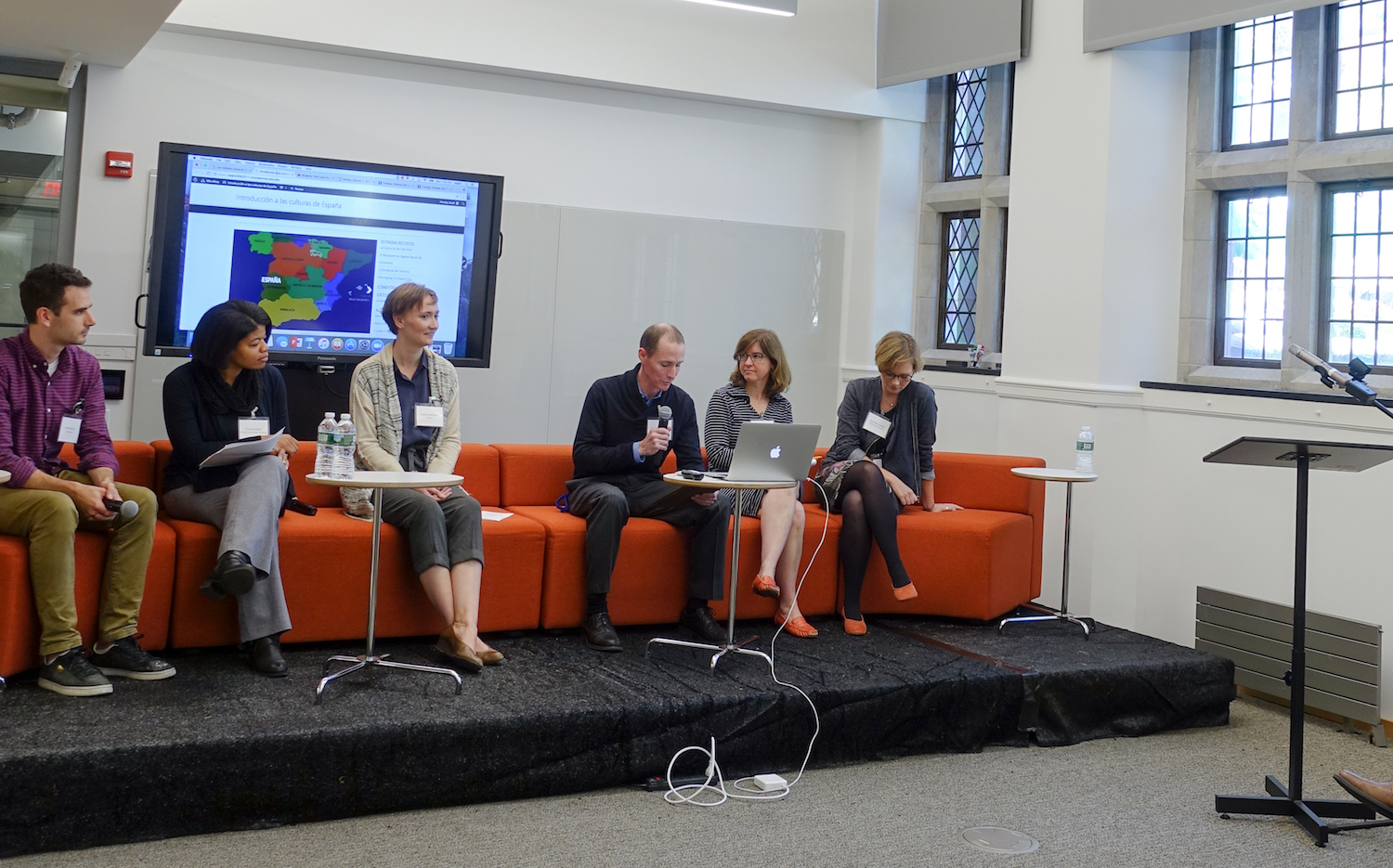 The 2017 CTL Forum on how faculty are using digital technology to meet pedagogical goals was held on Oct 2, 2017 in Yale's Center for Teaching and Learning. Scott Strobel, Henry Ford II Professor of Molecular Biophysics and Biochemistry, Deputy Provost for Teaching and Learning gave the opening remarks followed by a keynote talk by Dr. Marvin Chun, Dean of Yale College.
Dr. Chun reflected on his teaching experience and how he has incorporated technology into the classroom. The Forum comprised of two hour-long panel discussions highlighted a range teaching experiences and technology solutions by faculty from across the Yale community. 
In the first panel, the faculty highlighted the use of various technologies in their courses like Timeline to help students think critically about historical narratives and chronology, website development by students, and pros and cons of TurningPoint clickers. Other tools such as lecture capture, discussion boards on Canvas, online homework, a flipped classroom experience, game-based learning, and using virtual reality as an instructional aid, were featured. 
In second panel ,the faculty discussed hybrid approaches to curriculum, student learning process in hybrid classes, CoursePress for student websites, using Zoom to bring invited speakers from overseas into the classroom, and teaching with video using Media Library. 
The second panel was followed by a presentation on accessibility by David Hirsch, Director for Academic IT Strategy. 
Here is the agenda of the event
If you have ideas for topics you would like to see covered in future CTL Tech Forum or would like to present, please contact John Harford, Brian Pauze, and Sanjana Singh at medialibrary@yale.edu
Watch the following videos from the CTL Forum: 
| | |
| --- | --- |
| Session Title | Presenters |
| Opening Remarks and Keynote Talk | Deputy Provost of Teaching and Learning, Dr. Scott Strobel, and Dean of Yale College, Dr. Marvin Chun |
| Teaching with Digital Technology Panel-1 | Leslie Harkema, Kathryn Slanski, Agnete lassen, Brett Smith, Tracie Addy |
| Teaching with Digital Technology Panel-2 | Kristy Posocco, Stefan Simon, Mary Evelyn Tucker, Jonathan Reuning-Scherer, Anjelica Gonzalez |
| Thinking about Accessibility | David Hirsch |