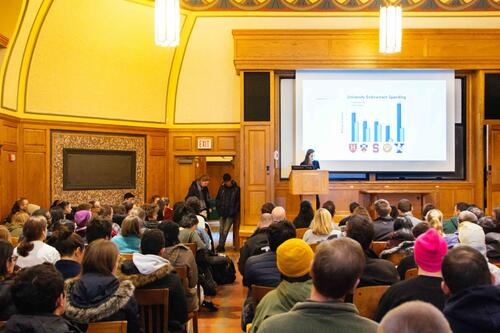 As Professor Marshall Sahlins reminds us in the Nation, "The 'Occupy' tactic was not born in 2011. Nor was the frame of mind that spontaneously came up with the notion of a teach-in."
Scholars have responded to current events, social and political unrest, and troubling news for generations. They contextualize new information within frameworks from their disciplines and provide important lessons from the past. The term "teach-in" entered our lexicon in the context of the Vietnam War when professors decided to "occupy" their campuses and share their expertise with students protesting the draft and war. When our country experiences troubling times, the "teach-in" provides a way for students and faculty to engage in free expression and constructive dialogue.
Many teaching centers look to the University of Michigan for inspiration; the institution has one of the oldest teaching centers in the country and has produced well-researched resources for faculty on nearly every pedagogical topic. Unsurprisingly, faculty at the University of Michigan launched the first teach-ins back in 1965.
"Within weeks of the first teach-in at Michigan, on the night of March 25, 1965, over a hundred others took place on campuses across the country—including a mega teach-in of 30,000 people at Berkeley," wrote Sahlins, a noted cultural anthropologist and retired faculty member who recently died on April 5, 2021.
At Yale University, teach-ins have taken place to draw attention to a number of topics. In November 2015, the University's cultural centers organized "A Moment of Crisis: Race at Yale Teach-In." According to the Yale Daily News, the forum aimed to educate "the community about the issues faced by people of color at Yale." In October 2020, an online teach-in occurred to raise awareness for the Rohingya people suffering from violence in Myanmar.
"Our nation has not come to the end of its challenges with the terrible legacies of slavery and discrimination in all its forms. Inclusion and equality are works in progress, both for Yale and for the rest of our exceptional country. I deeply believe that free expression advances that work, as it always has, the more of it the better," wrote President of Yale Peter Salovey in a Wall Street Journal opinion piece in 2016.
The Yale Law School plans to host three teach-ins to discuss criminal justice, racial justice, policing, and the outcome of the Derek Chauvin trial.
Dean of the Yale Law School Heather Gerken wrote in a statement on Tuesday, April 20, 2021, "Because today's verdict does not and cannot put these issues to rest, the Law School — in conjunction with the Liman Center, LSO, the Justice Collaboratory, and schools across campus — will lead a teach-in to reflect on these terrible incidents of racial violence and to identify how we can more effectively root out systemic racism."
Teach-ins empower students to learn about a specific topic or issue through multidisciplinary lenses and develop/evolve their perspectives by the end of the forum. The hallmarks of these events include advanced organizing, diverse speakers, a well-informed moderator, a clear agenda, and community outreach. EarthDay.org has organized a toolkit for teach-ins that people can adapt to any topic or issue.
"With COVID, we want to stay physically away from each other but, just as with the current situation with racism and police brutality, we do need to be socially and emotionally connected," wrote Yale School of Management Senior Lecturer in Organizational Behavior Heidi Brooks.
Teach-ins allow us to connect and discuss important issues as a campus community.
The Yale Poorvu Center for Teaching and Learning recommends that organizers ask the following five questions as they plan a teach-in:
How can we leverage expertise at Yale and in New Haven to engage students and create opportunities for reflection?
How do we acknowledge specific issues or topics and recognize differing perspectives?
What actions should we take to create a safe space for all participants, ensuring that everyone feels like they belong?
During an online teach-in, how do we set guidelines for engaging with speakers and participants to design an equitable and lively forum?
What resources exist at Yale related to the issue we plan to discuss? How can we highlight or share those resources more broadly?
Lastly, the Poorvu Center offers the following quick links to prepare for a teach-in:
Image Credit:
Photographer: Surbhi Bharadwaj, Source: Yale Daily News, Feb. 05, 2018, "Students criticize University investments at teach-in"