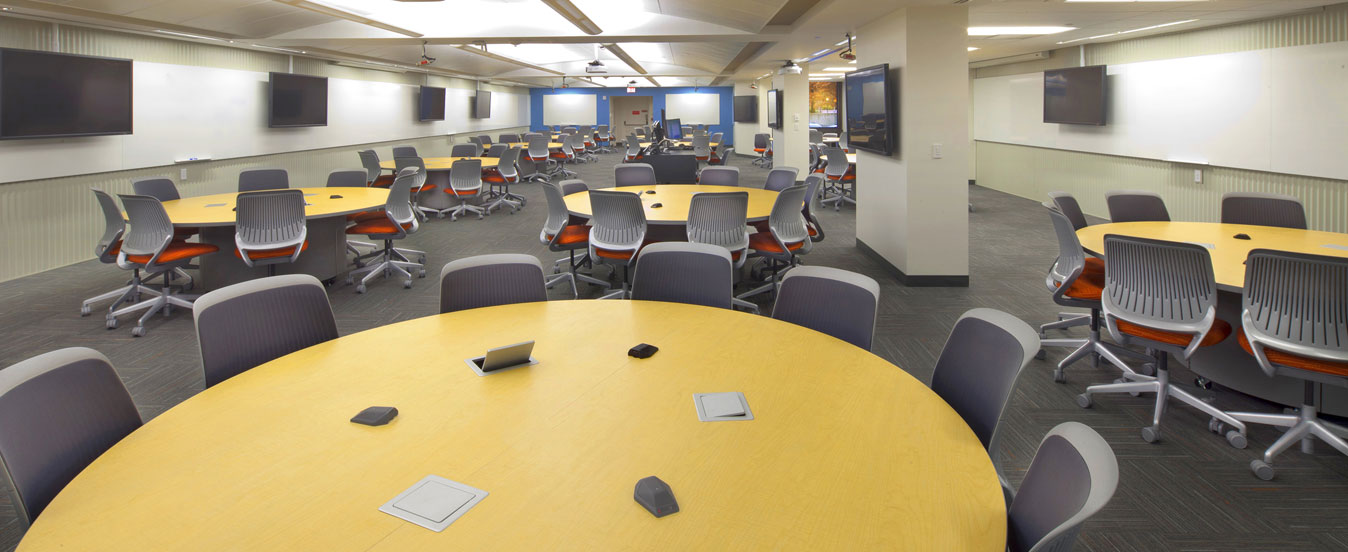 Yale's TEAL (Technology Enabled Active Learning) classroom is on the first floor of 17 Hillhouse.
The classroom can accommodate 126 students and is specially equipped to facilitate innovating teaching approaches by supporting active and group learning. The room's 14 tables each seats nine students. Each table includes video cables which can be used to project from students' computers. The room includes five projection screens, 14 flat screen displays, and ubiquitous whiteboard space including eight whiteboards with dedicated high-definition video cameras. An instructor station in the middle of the room controls video sources and displays. These resources allow instructors teaching large sections to deliver lectures and coordinate practical work and group discussion all in the same class session.
Pedagogy
Technology Enabled Active Learning
TEAL is "Technology Enabled Active Learning", an instructional method spearheaded at MIT by John Belcher. A typical MIT TEAL class incorporates lecture, recitation, and hands-on experiments in one presentation. Instructors deliver 20-minute lectures interspersed with discussion questions, visualizations, and pencil-and-paper exercises. Students use animated simulations designed to help them visualize concepts, and carry out experiments in groups during class. Instructors periodically ask concept questions, which students discuss and answer through an electronic polling system with handheld voting keypads. Instructors no longer lecture from a fixed location, but walk around with a wireless microphone talking to students about their work, assessing their understanding, facilitating interaction, and promoting better learning.
SCALE-UP
A related initiative was developed at NC State by Robert Beichner. SCALE-UP stands for "Student-Centered Active Learning Environment for Undergraduate Programs." During a SCALE-UP session, students are assigned something interesting to investigate. While they work in teams, the instructor roams around the classroom–asking questions, sending one team to help another, or asking why someone else got a different answer. There is no separate lab class and most of the "lectures" are actually class-wide discussions.
---
The Room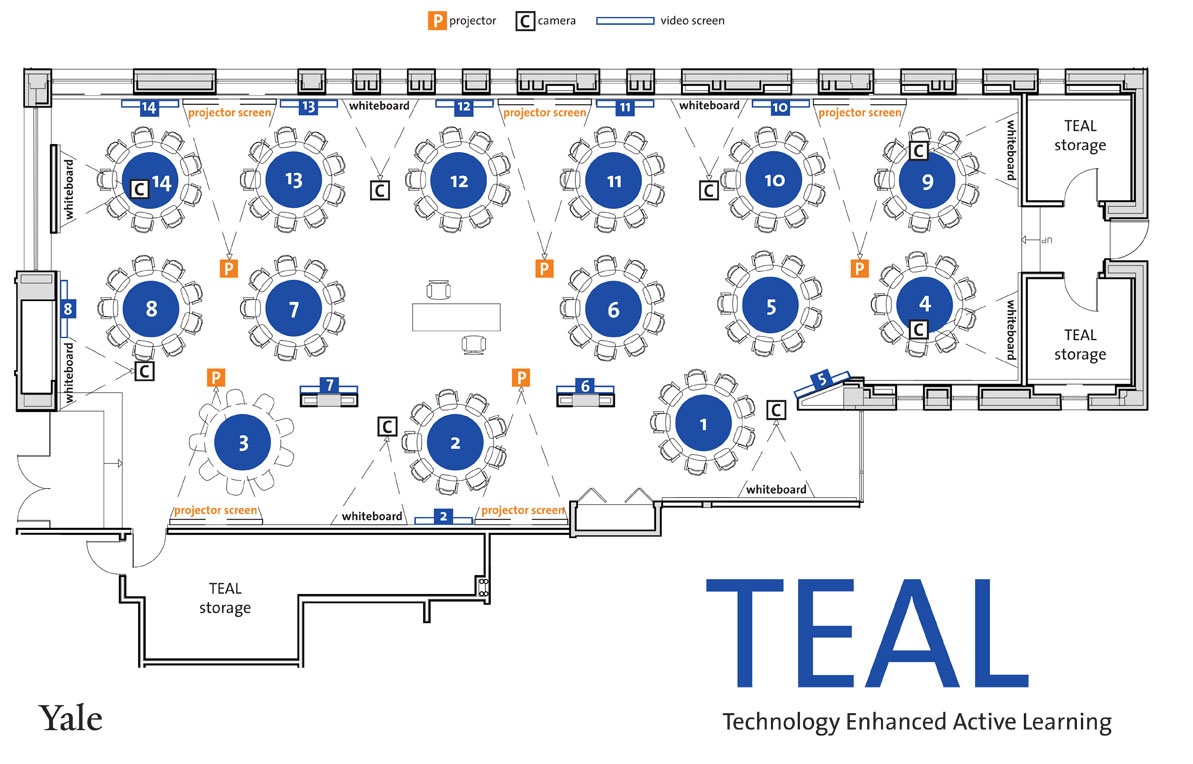 Note: The above diagram only shows 10 LCD screens, all tables now feature LCD screens.
Features
14 student tables. Each table has three VGA and three HDMI cables and three gooseneck microphones.
126 student chairs (nine chairs per table)
One instructor's table
One instructor's chair
Five projectors and screens
Fourteen 60" LCD monitors
Eight high-definition whiteboard cameras
One instructor PC with two monitors
One document camera
One Crestron wireless room control
Two lavaliere microphone or two wireless handheld microphone
---
TEAL in the News
Read more about the classroom in an article by the Yale Daily News.