The Online Education Committee and Yale Center for Teaching and Learning are proud to announce the 2016 Digital Education Innovation (DEI) Grant awardees.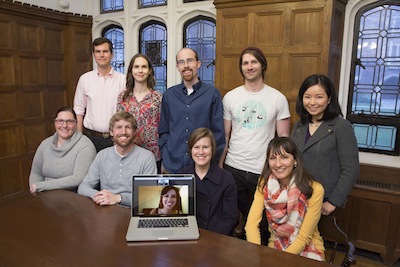 In early February 2016, ten grants were awarded to Yale GSAS students to support the creation of new and innovative educational opportunities using digital and/or online platforms.
2016 Grant Awardees:
Anya Adair, Teaching from a Broken Record: Digitally Enabled Lessons in Reading Slowly
Matt Davis, The Chrononaut Club
Daniel Jones, Take Credit: An App to Prevent Plagiarism in the College Classroom
Emil B. Kromann, Sagan
Kara Yoo Leaman, From Music to Dance: Broadening Undergraduate Music Humanities with Choreomusical Analysis
Santiago Muñoz Arbeláez, Digital Platform for Learning Early Modern Spanish Paleography
Maria Garcia Rios, Community-engaged and Collaborative Learning: Broadcasting New Haven's Latino Voices
Sara Sanchez-Alonso, WikiBrain: A Language-Brain Mapping Wiki to Facilitate Critical Thinking of Language Processing Literature in Introductory-Level Classes
Thomas Schmidt, Social Networks in Early Christianity
Janine Stockford, Understanding America Online Resource
The Poorvu Center hosted the grant competition showcase and reception to learn more about these projects in April 2016.