Faculty Bulldog Days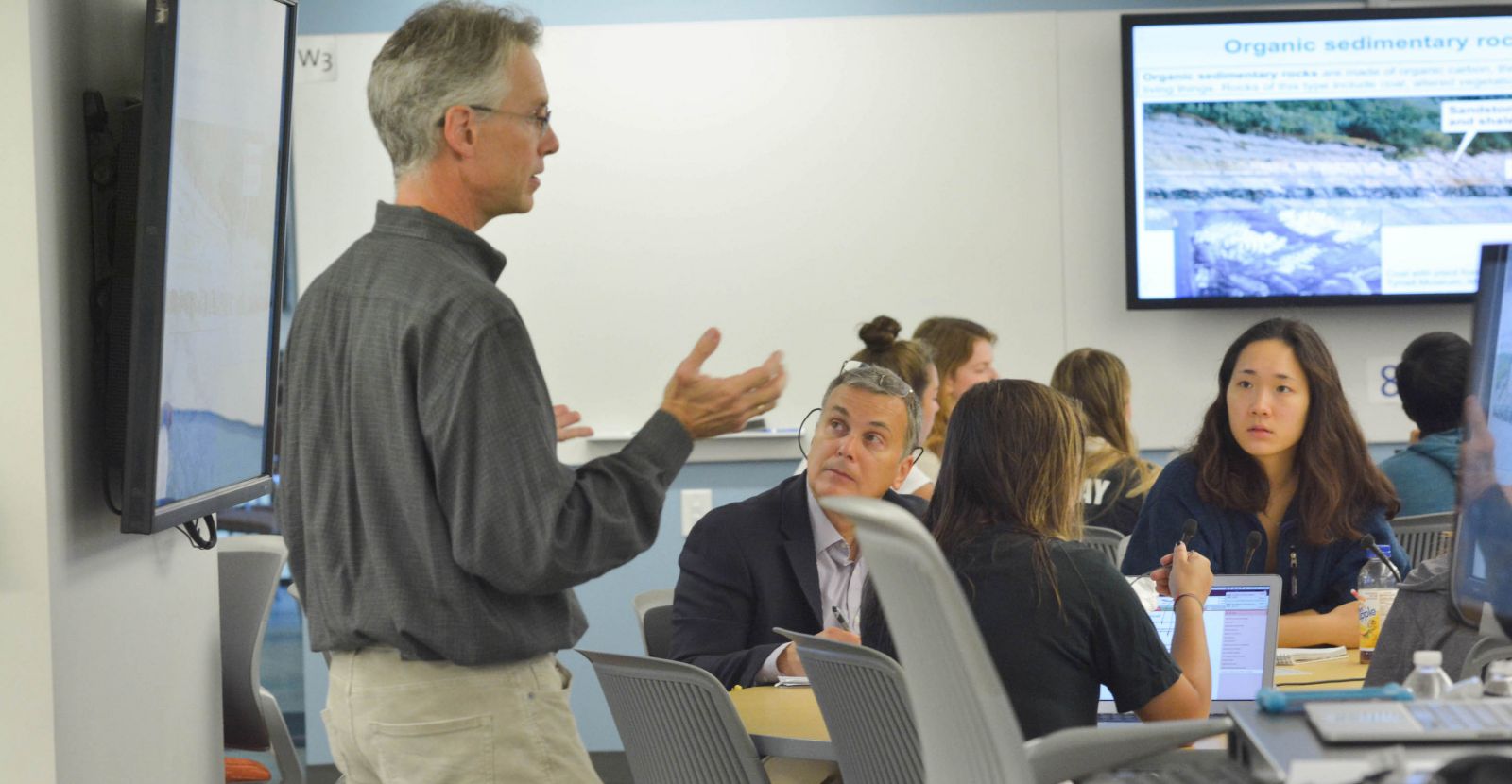 (Pictured above: Professor David Evans teaches his course, "Dynamic Earth," during Faculty Bulldog Days in October 2016 with attendee Joseph Wolenski, Research Scientist and Lecturer in the Molecular, Cellular and Developmental Biology Department.)
---
Upcoming Faculty Bulldog Days:
April 2020
Faculty are invited to complete the "Open My Course" form TBD
The Poorvu Center compiles a course catalog of all open courses
Faculty are invited to complete the observation registration process from TBD
Faculty will receive an email on TBD to connect hosts with observers
Mission:
The Deputy Provost for Teaching and Learning, Scott Strobel, invites faculty at Yale to take part in Faculty Bulldog Days each semester. Faculty open their classrooms to their peers in the spirit of making teaching more public. This presents an opportunity to observe the wealth of deep knowledge addressed in our classrooms every day and to become more engaged in our community of scholars.
Step-by-Step:
The Poorvu Center for Teaching and Learning reaches out to all faculty (including faculty in Yale's 12 professional schools) several weeks before Faculty Bulldog Days (FBD) and invites them to open their classroom for one day during the week of FBD.
After confirming the open classes, the Poorvu Center opens a registration portal and invites all faculty to register to attend one or more of the courses.
A couple of days before FBD, the Poorvu Center sends an email to those that registered for classes and those that opened classes to connect each of the participants with the faculty member who opened their classroom.
During FBD, faculty attend the classes of their peers. They might take an active role in discussion or they might choose to quietly observe; it is completely up to each person.
Ready to Participate?
Explore a new discipline or attend a class across campus to interact with colleagues that you might not see on a regular basis. You'll learn a lot from experts in their field and you might consider adapting an exercise or seminar format for your discipline. Participants and hosts are encouraged to speak after class and discuss teaching at Yale. If you have not taught in front of your peers, consider opening your classroom for the first time!
Impact:
Yale's Poorvu Center has sponsored this initiative since spring 2015.  Each semester, faculty have opened more than 90 courses to their peers and more than 100 community members register to attend at least one of the open courses. More than 700 unique people have taken part in this initiative. Past FBD dates:
April 6 – 10, 2015
October 26 – 30, 2015
April 11 – 15, 2016
October 3 – 7, 2016
February 27 – March 3, 2017
October 2 - 6, 2017
April 9 - 13, 2018
October 8 - 12, 2018
April 8 - 12, 2019
October 28 - November 1, 2019
Data:
82% of people were extremely satisfied with their overall Faculty Bulldog Days experience.
"I just wanted to let you know how much I enjoyed my experience with Faculty Bulldog Days.  The two classes I attended were very interesting, it was a treat to learn and think about things outside of my usual work." - Leslie Sude M.D. | Assistant Clinical Professor | Yale University School of Medicine
One respondent stated a new found respect for "having close interactions with students to increase their engagement"
At Faculty Bulldog Days, the emphasis will be on sparking a cross-pollination of teaching excellence.
"I hope that this program will be offered again next year," said Ruth Koizim, Professor of French. "It was great fun and really can break down barriers between disciplines and departments."
For its second edition, the event expanded beyond the Faculty of Arts and Sciences to include faculty from the School of Management and the School of Forestry & Environmental Studies.