Faculty Fellows
Overview
The Poorvu Center Faculty Fellows Program is a yearlong opportunity for a small group of faculty from across the disciplines to foster discussions of teaching and learning and to promote equitable teaching practices. In collaboration with the Poorvu Center, the faculty fellows will complement the center's existing educational development offerings by facilitating some faculty development sessions for their colleagues that engage in conversations related to inclusive, equitable or antiracist pedagogy. As ambassadors with insight about the Poorvu Center's programming, the faculty fellows will also inform the Center's future priorities and offerings for faculty, departments, and schools.
The 2022-2023 academic year has served as a pilot program with two inaugural fellows, Claire Bowern, Professor of Linguistics, and Enrique M. De La Cruz, Professor of Molecular Biophysics and Biochemistry. In addition to their roles as ambassadors and facilitators, they have provided feedback on the Faculty Fellows Program to ensure its long-term sustainability and viability. 
Eligible applicants: Full-time faculty at the rank of full professor, senior lecturer II, senior lector II, or an equivalent rank in a professional school (senior appointment level). 
Nominations are now open through April 1, 2023 for the Faculty Fellows Program for the 2023-2024 academic year. The Poorvu Center recognizes the fellows' contributions with a $5000 research or professional development funds per faculty member for 1-2 hours of their time most weeks that Yale classes are in session during the fall and spring of each academic year. Interested faculty can learn more details here.
Meet the Inaugural Faculty Fellows
---
Claire Bowern
Claire Bowern is a Professor of Linguistics and the incoming Director of Undergraduate Studies for the Linguistics department. Professor Bowern graduated from Harvard in 2004 with a PhD in Linguistics. As a historical linguist, her research is centered around language change and language documentation in Indigenous Australia. While her work touches many areas, the overarching question she explores is how to characterize the nature of language change. As a Yale instructor, Professor Bowern is very dedicated to teaching. Students of her LING 110: Introduction to Linguistics course describe her as "supportive, passionate, and knowledgeable" while providing "a great foundation and introduction to Linguistics." Professor Bowern has worked extensively with the Poorvu Center as a past member of the center's advisory board, faculty partner in the Pedagogical Partners program, featured panelist at Course (Re)Design, and participant in many other workshops and sessions. Bowern also directed Yale's Women Faculty Forum, a gender equity group on campus, from 2017-2020, and has secondary appointments in Anthropology, Cognitive Science, and Women, Gender, and Sexuality Studies. The Poorvu Center is incredibly excited and grateful to have Professor Bowern as an inaugural Poorvu Center Faculty Fellow.
---
Enrique M. De La Cruz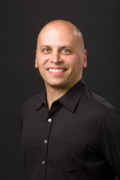 Enrique M. De La Cruz is a Professor and the Chair of the Department of Molecular Biophysics and Biochemistry (MB&B) and the Head of Branford College. He is a first-generation Cuban-American from Newark, NJ, who attended Rutgers as an undergraduate and John Hopkins for his PhD. He  is actively involved with various scientific advisory boards, societies, journals and peer review committees, as well as numerous outreach activities to advance and promote underrepresented minorities in the sciences.  Professor De La Cruz's research focuses in the areas of cell motility and the actin cytoskeleton, motor proteins, RNA processing enzymes, and signaling enzymes involved in blood clotting and calcification.  He considered becoming a medical doctor before pursuing his PhD, but he realized, "I wanted to be a teacher. It wasn't even research. I was so enamored. That might not be the right word, but I was just so appreciative, and I admired my professors at Rutgers for just their commitment to undergraduate education and teaching. It was life changing and made me want to be a teacher." Professor De La Cruz launched a new course last fall at Yale, MB&B 275: Biology at the Molecular Level, with two of his colleagues–Professor Andrew Miranker and Assistant Professor Adjunct at the Medical School, Zachary Levine. Students in the course described De La Cruz's lectures as "so engaging–he kept the classroom environment so open to questions and further exploration of the topics." The Poorvu Center is thrilled to welcome Professor De La Cruz, a celebrated instructor for two decades at Yale, as an inaugural Poorvu Center Faculty Fellow.
Questions
For Yale faculty inquiries about the Faculty Fellows Program, email faculty.teaching@yale.edu.