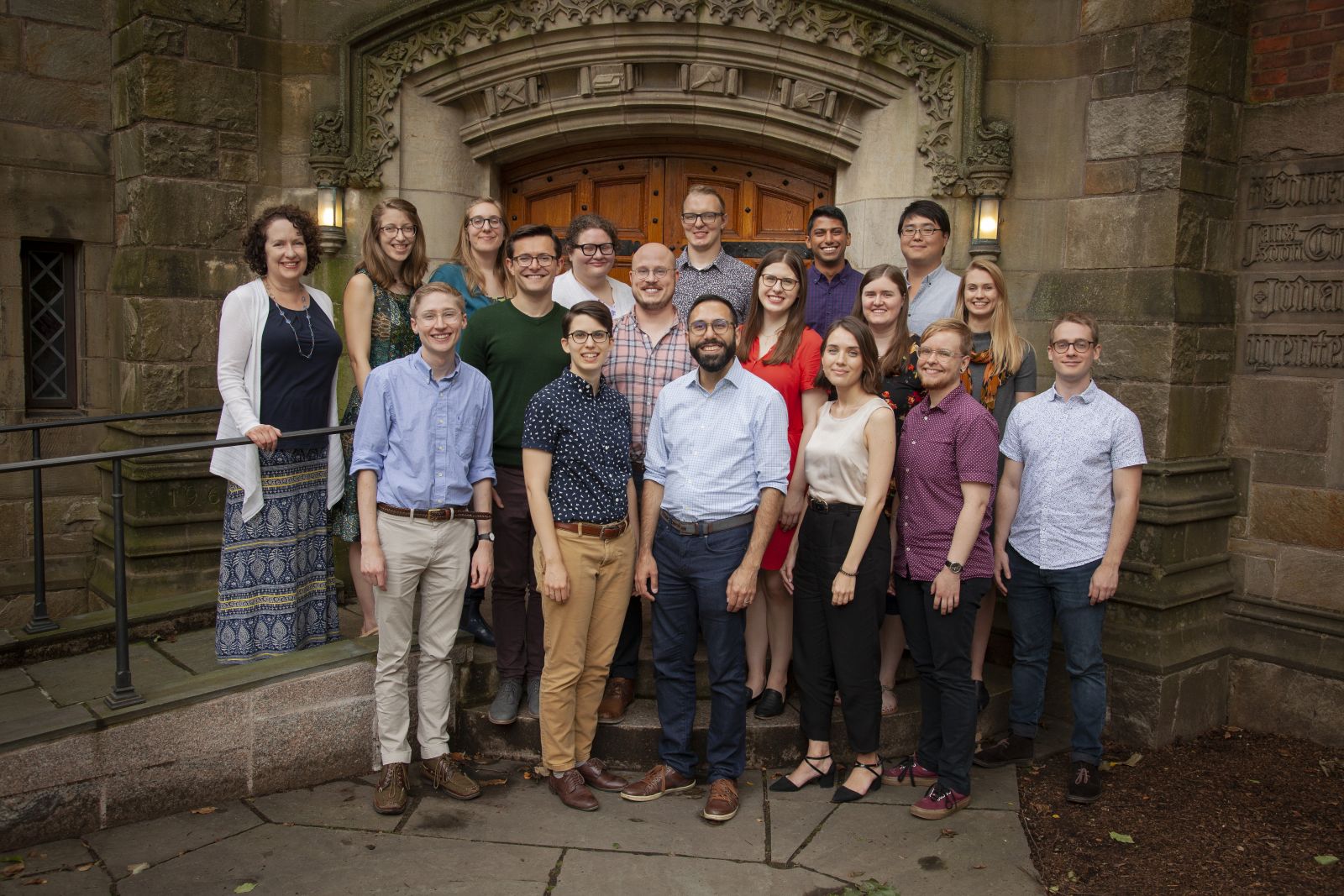 The McDougal Graduate Teaching Fellows at the Poorvu Center lead programs on effective and innovative teaching, develop teaching resources, and provide individual observations for graduate student instructors at Yale. The Poorvu Center emphasizes teamwork as well as individual participation. This group of approximately 20 doctoral graduate students and professional school students facilitates a wide array of programming, including Teaching at Yale Day for first-time teaching fellows, discipline-specific Fundamentals of Teaching workshops, and advanced teaching workshops. McDougal Graduate Teaching Fellows work within their own departments or disciplines and across disciplines.
While our fellows are experienced and successful teachers, the program also provides them with the opportunity to grow and deepen their expertise, refining their teaching persona and philosophy through sustained engagement with the interdisciplinary scholarship of teaching and learning. Here's what one of our former fellows, now a tenure-track faculty member, had to say about the program: 
The [McDougal Graduate Teaching] Fellows program became the most important part of my graduate school training. Not only did I learn about pedagogy as a field of active research, I also got the chance to hone my leadership skills and practice vulnerability, active listening, and creative problem solving. Most importantly, though, I discovered a community of others who, like me, care deeply about teaching. Our conversations have made me a much more reflective teacher–and a better human being.
In early May, fellows receive 16 hours of required training over two days to prepare them to serve as consultants and workshop leaders. An additional day of mandatory training takes place in mid-August. Fellows attend bi-weekly staff meetings throughout the academic year, during which they contribute to the direction and offerings of the Poorvu Center and continue to develop their own teaching. These training opportunities are built into the stipend, which will be $5600 for 2023-2024.
McDougal Graduate Teaching Fellows are supported by a generous gift from the McDougal family.
Benefits
Compensation: Fellows receive training, a shared workspace, and a $5,600 honorarium for the academic year. The honorarium may be held jointly with most research, teaching, and dissertation fellowships from Yale and outside funder agencies.
Team Work: Fellows work as part of a team of approximately twenty McDougal Teaching Fellows, plus two McDougal Teaching Fellow Coordinators and the CTL leadership.
Part-Time Commitment: Fellows work 6-8 hours/week in a flexible schedule that fits with most coursework, lab, teaching, clinical, and research activities and personal lives. Not every week requires constant effort: fellows are able to plan their schedules, in consultation with the two graduate fellow coordinators, so that they may have some off weeks combined with some busy weeks. Fellows will co-facilitate an average of five workshops per semester (often drawn from previous iterations), and they determine the timeline of those sessions. Occasional opportunities for additional paid work are available.
---
Eligibility
Applicants must be registered graduate students in good academic standing with at least one semester of Yale teaching experience.
---
Requirements
To apply, please complete the online form and email the following materials to Gina Marie Hurley. Please place all documentation into a single PDF file and include your last name, first name, email address, and phone number in the header of the file.
Your full name, email, department, and year of study (for the academic year 2023-2024).

A listing of your college teaching experience, both formal and informal, to date 

if you have taught in the K-12 classroom, please include this experience.

A representative sample of your teaching evaluations (we suggest the most recent). 

To download teaching evaluations, follow these instructions. 

A brief (250 word max.) self-assessment of your teaching strengths and favorite strategies.

A list and short description of the teaching development activities (including Poorvu Center workshops and events) in which you have participated. 

Note: Attendance at Poorvu Center workshops is encouraged but not required to be a Fellow. You may consider sharing other pedagogical development you've attended or engaged with (including departmental trainings and TF meetings with supervising instructors).

In addition to facilitating our ongoing programs, Poorvu Center fellows develop new workshops and resources for graduate and postdoctoral instructors. Over the past few years, new workshops have included Trauma-Informed Teaching, Teaching Iteratively and Sustainably, and Online Teaching. Look over our current workshop offerings. Based on these offerings, and your own experience, identify one aspect of graduate and postdoctoral instructor preparation that you feel needs attention and describe a workshop that you might develop to address it. Your proposal may include a current workshop offered by the Poorvu Center that needs revision or redirection. (250 words max.)
---
Contact
Gina Marie Hurley, Associate Director of Teaching Development and Initiatives