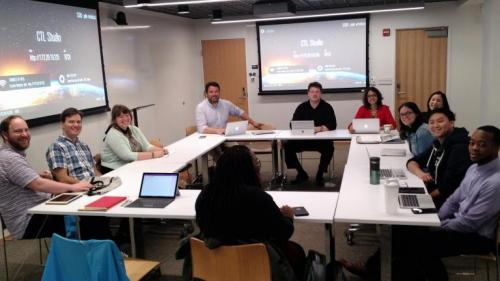 The Teaching Studio has state of the art technology designed for multifaceted educational activities to encourage dynamic and interactive learning. The aim is to promote student learning through hands-on collaborative activities and active learning.
Request for the Teaching Studio can be made by emailing medialibrary@yale.edu(link sends e-mail) with your preferred times.
A Poorvu Center staff member will be available to demonstrate how to use the technology components in this room before your first class session.
Technologies
The Studio has two displays fixed to the wall that can be connected to wirelessly. There are also two ceiling mounted projectors, each with a dedicated screen. One of the main walls can be used as a whiteboard from floor to ceiling. There are also portable whiteboards that can be brought in this room.
There is a motion-tracking camera mounted to the ceiling should you wish to record your class sessions. 
There is also a 3D scanner and printer; and equipment for Virtual Reality including Oculus Rift and Vive headsets.
Capacity
The room is ideally designed for a group of 12 or less but can accommodate maximum 16 people. The furniture is movable to impart flexibility in classroom design and promote student engagement.  
Uses
We encourage faculty to use this space for trying out and getting comfortable with incorporating new technology in their pedagogy.
The motion-tracking camera is ideal for lecture capture and webcast.
Workshops
Presentations
Collaborative meetings or classes with offsite participants
Project discussions using the wireless displays for screen sharing