If you are looking for ways to practice and improve your English speaking and comprehension skills, please use the links below to explore your options both within Yale and in the greater New Haven area. For English writing help, please visit the Graduate Writing Lab to learn about individual consultations with writing advisors and numerous workshops about academic writing.
Yale Resources: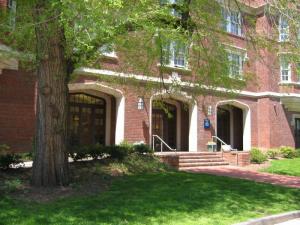 Center for Language Study (CLS) offers academic English language and communication support. CLS provides a comprehensive program, which will assess your needs and provide expert advising, instruction, and consulting. CLS is also a rich resource of English language audio and video materials, helpful software, a collection of ESL texts, and other English language resources at Yale. Through this link you can also browse available digital ESL resources, register for courses, and learn about English language proficiency assessments such as the TOEFL and SPEAK exams. For more information about services please contact the Director of ELP, James Tierney, at james.tierney@yale.edu or call 203-432-6806. You can also visit the CLS office at 370 Temple Street, room B29.
Office of International Students and Scholars (OISS) at Yale offers daily English Conversation groups where you can improve your communication skills through informal discussions on different American Culture topics. Through this link, you can learn more about English conversation groups, English language programs, online ESL resources, and even translation services. You can also sign up for the Conversation Partner program, which pairs non-native English speakers with native speakers for one-on-one language and culture exchange. For more information, contact the office at oiss@yale.edu or 203-432-2305. You can also visit the OISS International Center at 421 Temple Street.

Yale English Language Institute (ELI) offers part-time, non-credit courses focusing on various aspects of English for non-native speakers during the fall and spring. The courses are open to everyone and include Intensive English Language courses as well as English for Graduate Students & Professionals programs. Most fall courses are repeated in the spring. During the summer the Institute offers full-time intensive English courses for non-native speakers. Please visit the link to register for courses and sign up for the mailing lists. You can also contact ELI directly at eli2@yale.edu, 203-432-2430, or yale_eli (Skype).
New Haven Resources:
English Tutoring at Bridges offers free tutoring in small-groups to immigrants and visiting internationals. Classes are available in four levels: Survival, Beginner, Intermediate, and Advanced. Their classes are conveniently scheduled on Saturdays from 10 AM-12 PM and are located at 295 and 301 Crown Street in Downtown New Haven. To register, please visit the Asian American Cultural Center (295 Crown Street) at 10 AM on a Saturday when Bridges classes are being held.
New Haven Adult and Continuing Education Center offers ESL classes and on-line resources for beginning, intermediate, and advanced learners that combine listening, writing, speaking, and reading skills with life and basic skills. Please follow the link and click on "Programs" to find information about their "English for Speakers of Other Languages" program as well as instructions for registration. The classes are conducted at 580 Ella T. Grasso Boulevard, and you can contact the office at 203-492-0213 with questions.
Gateway Community College ESL Program offers helpful on-line resources and tutorials, helpful resources for mastering English Vocabulary and Grammar, as well as a diverse selection of courses for English learners. Gateway also offers an ESL Certificate Program. For questions, please contact the ESL Coordinator Susan Chenard at schenard@gatewayct.edu or 203-285-2045.
English Conversation Class at New Haven Free Public Library is available Tuesdays and Thursdays from 6 PM-8 PM at 113 Elm Street. Please visit the website for a calendar of events or call 203-946-8138 for additional information.