Diversity and Education Series
As partners, the Office of the Provost and the Center for Teaching and Learning have launched the Diversity & Education Series: Translating Institutional Commitment into Practice. Sessions will focus on ways in which universities and colleges translate commitments to inclusive practice into accomplishments throughout the work of the organization.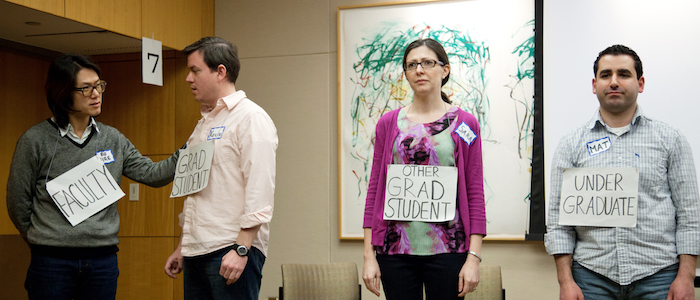 To register, click on an event below and then click on the registration link.
Past Events in this Series
Title
Event Topic
Time
"A Chance at Birth" with Bryan Dewsbury
The diversity of our social positioning
Tuesday, October 2, 2018 -

12:00pm

to

1:30pm

"Working as a Black Man in the Academy" with Sam Cook
Working as a Black Man in the Academy
Wednesday, September 5, 2018 -

12:30pm

to

1:30pm

Norms and Networks: A Perspective of Women's Work Decisions by Dr. Rohini Pande
Norms and Networks: A Perspective of Women's Work Decisions
Tuesday, March 27, 2018 -

4:00pm

to

5:00pm

Linguistic Prejudice: Revealing our Implicit Biases about Language with Drs. Raffaella Zanuttini, Jim Wood, Jason Zentz
Linguistic Prejudice: Revealing our Implicit Biases about Language
Wednesday, February 7, 2018 -

12:00pm

to

1:30pm

Crisis in Representation in STEM Higher Education: A Need for New Understanding and New Leadership with Dr. Richard Tapia of Rice University
Crisis in Representation in STEM Higher Education: A Need for New Understanding and New Leadership
Tuesday, January 23, 2018 -

4:00pm

to

5:00pm

Dr. Joanne Berger-Sweeney
Diversity and Inclusion in Academia and the Public Good
Monday, November 6, 2017 -

2:30pm

to

3:30pm

Dr. B. Afeni McNeely Cobham
Facilitating 'difficult dialogues': Advancing commitment through unconventional practice
Thursday, October 12, 2017 -

10:00am

to

11:30am

Dr. Timothy Renick
Eliminating Achievement Gaps Through Data and Analytics
Thursday, September 14, 2017 -

12:00pm

to

1:30pm

University of Michigan CRLT Players
Sketch: 7 into 15
Thursday, March 30, 2017 -

4:00pm

to

5:30pm

Story Collider, Workshop
Life in the Sciences at Yale
Wednesday, March 1, 2017 -

1:00pm

to

5:00pm