Academic Strategies Workshops
Workshop Schedule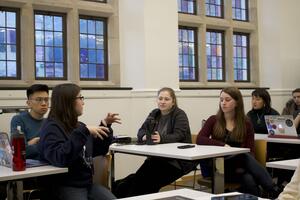 See the Schedule for the Academic Strategies Workshops Here (all online this year!):
https://yaleconnect.yale.edu/events_list
Once you see a workshop you'd like to attend, register for it at the link in the workshop description. This will give you access to the link that will get you into the workshop.
More about Academic Strategies Workshops:
Our workshops are constantly evolving, and are all created in direct response to the concerns of Yale undergraduates, who identify academic experiences that most commonly have presented challenges for them. After identifying those common challenges, our Academic Mentors research the best strategies to help students work through those challenges more efficiently and effectively, and share those plus some of their own experiences with you.
 
Each workshop begins by helping students identify their own goals and concerns, and provides opportunities for students to plan the approaches that might work best for them.
Workshops Teach you Strategic Approaches to:
Time Management

Exam Studying

Managing a Heavy Reading Load

Understanding how to Navigate Seminars vs Lectures

Tackling P-Sets

Cultivating Faculty Mentors/Recommendations

And many other common challenges faced by Yale students … 
Want help right away? Schedule an individual appointment with a peer mentor–email academicstrategies@yale.edu.
Interested in scheduling a workshop for your student group, program, or department? E-mail Karin Gosselink at karin.gosselink@yale.edu.
Past Events in this Series
Title
Event Topic
Time
Creating a Timeline for Your Senior Thesis - For Juniors
Creating a Timeline for Your Senior Thesis - For Juniors
Wednesday, April 29, 2020 -

4:00pm

to

5:00pm

Public Speaking for Undergraduates
Public Speaking for Undergraduates
Tuesday, April 28, 2020 -

6:00pm

to

7:00pm

Exam Study Strategies: Finals Edition
Exam Study Strategies: Finals Edition
Monday, April 20, 2020 -

4:00pm

to

5:00pm

Public Speaking for Undergraduates
Public Speaking for Undergraduates
Wednesday, April 15, 2020 -

7:30pm

to

8:30pm

Finals Strategies: Avoiding Procrastination
Finals Strategies: Avoiding Procrastination
Tuesday, April 14, 2020 -

6:00pm

to

7:00pm

Creating a Timeline for Your Senior Thesis - For Juniors
Creating a Timeline for Your Senior Thesis - For Juniors
Tuesday, April 14, 2020 -

4:00pm

to

5:00pm

Exam Study Strategies
Exam Study Strategies
Monday, April 13, 2020 -

6:00pm

to

7:00pm

Organization and Time Managment for Online Learning (for undergrads)
Organization and Time Managment for Online Learning (for undergrads)
Monday, April 13, 2020 -

4:00pm

to

5:00pm

Time Management
Time Management
Monday, April 13, 2020 -

4:00pm

to

5:00pm

Motivate Your Online Learning
Motivate Your Online Learning
Sunday, April 12, 2020 -

3:00pm

to

4:00pm